Al Zabir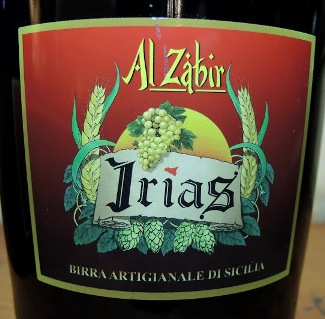 | | |
| --- | --- |
| Author | Mauro Ricci |
| Date of publication | 01/19/18 |
| Country | Sicilia |
| Nation | Italia |
| Price | 6 € |
Al Zabir is an Italian Grape Ale (IGA) with a totally Italian style recognized by the Beer Judge Certification Program (BJCP). It is made from barley malt fermented together with the must of dried Zibibbo grapes (Moscato from Pantelleria or Alessandria). The grapes dry on racks under the summer sun until the reach the right sugar concentration after which they are delicately pressed and the must is added to the fermenting beer must.
In the glass, the IGA has a clear, medium-dense head and a slightly cloudy, amber color. The wrapping aromas express all the richness of the malts and the Zibibbo grapes with sweet scents of honey, apricot, dried figs, vanilla and a quite dry note of carob that settles this broad and dense bouquet that is in no way too sweet (thanks to the use of some wheat that has not been malted). The mouthfeel has an immediate note of pepper that blends into a dense, soft and fragrant body with flavors again of honey, dried figs and a more nuanced sensation of carob that lead to a finish in which the alcohol is bold and the persistence long with an after-aroma of dense, wilted flowers and honey notes all of which creates an interior warmth.
A couch beer with a warm and relaxing structure that might be good at the end of a meal with a chocolate dessert or some dried fruit.
Price: 6 euros for a 66cl bottle – 12 euros for a 75cl bottle.