A Pils from the Elvo Craft Brewery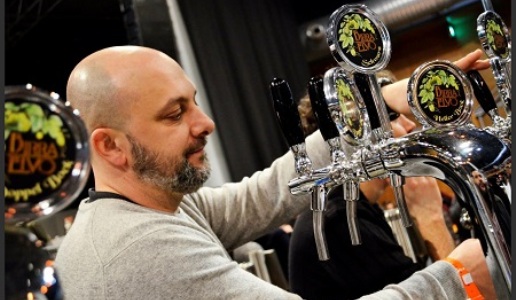 Here is a Pils that lets itself be enjoyed thanks to its hoppy character and cleanliness and well-disguised 5% alcohol content. Perfect for the summer.
Garda native Josif Vezzoli moved to Valle Elvo, in Piedmont, years ago and there founded the Elvo brewery. The move was natural given that his wife Cristina is from Graglia. This came after he had travelled Italy and the world doing a job that brought him great satisfaction, designing and building recording studios, even for important musicians. And so after dedicating himself to his love of music, he decided to shift his professional interest to his other great love: beer.
Today he has been joined by his brother Raoul who for the most part handles marketing and sales, while Josif is manically involved with production. The brews are simple, easy to drink and exemplary, in line with the German tradition that inspired them. All the beers are low fermentation with the exception of Weizen, which has a rigorously Bavarian style. For his brews, Josif has access to pure mountain water but having excellent water is not a guarantee that the beers will be equally as excellent. For this you need skill and sensitivity, which he certainly is not lacking in as the results show.
From Pils to Schwarz (a dark, toasty beer), Märzen to Weizen and the more alcoholic beers, like Hellerbock or even more so theDoppelbock, each brew is correct, a direct descendant of the style that inspired them and yet they have a unique character and always a "subtle" and balanced body.
After winning over fans and customers throughout Italy, collecting prizes in Italy, Germany (in a sector where the Germans consider themselves tops) and other European countries, they are also conquering Biella, with their small and welcoming pub in the middle of the city.
Related Products