Orcia DOC, a liquid postcard from Tuscany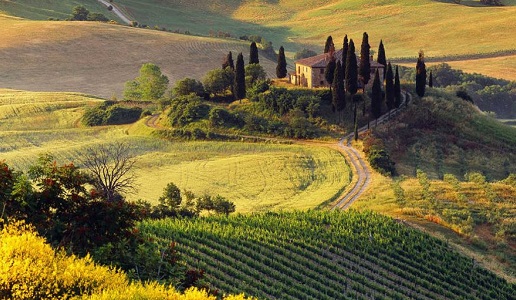 The Val d'Orcia valley is a jewel that attracts millions of tourists and young winemakers there are passionately trying to make their wines known.
"Orcia Miseria" (Poor Orcia) is how they referred to the Val d'Orcia at the beginning of the last century. This magnificent land, which has been a UNESCO Heritage Site since 2004, defeated poverty following the Second World War and saw a population surge in the 1980s thanks above all thanks to a maniacal conservation of the landscape, which in Tuscany has always captivated the collective imagination. And the countryside here has not changed that much from the one depicted in Lorenzetti's frescoes of The Allegory of Good and Bad Government, which can be seen in Siena's Palazzo Pubblico.
The classic postcard that shows a stone farmhouse on top of a hill, with a Cyprus tree-line road leading up to it and surrounded by vineyards and fields of wheat, could almost be one of my home. I live in San Quercio d'Orcia, in the heart of the Orcia DOC appellation, which together with another 12 broadly spread out villages is a buffer zone between the more famous appellations producing Brunello and Nobile wines. Tourism is the locomotive for the economy here with some 1.4 million visitors a year and the biggest draw is wine and food with wine a key source of revenue.
The ancient wisdom of farmers has been passed down to the new generations and the majority of farms here are still family-run. Aside from wine, the farms also produce wheat and olive oil and often offer hospitality. The new generation in Val d'Orcia is full of passion and a desire to excel in everything they do, while at the same time keeping a close eye on tradition as well as technological innovation. The production of Orica DOC wine began in 2000 thanks to a handful of winemakers, many of whom took part in the recent preview tasting dedicated to Orcia wine, which was staged in the San Giovanni d'Asso castle in the area of Crete Senesi.
Orcia wines are becoming an ambassador for this wonderful territory that hosts a full range of styles, as explained by event host Gabriele Gorelli, with the common denominator being the beauty of the landscape and not the make-up of the soil, which is very varied and determines the wines' expressive richness. This explains the definition of Val d'Orcia wine by the head of Orcia wine producers' consortium, Donatella Cinelli Colombini, as "a liquid postcard of the Val d'Orcia".
Orcia DOC wine appellation regulations recognize the stock red wine, mostly made from Sangiovese (60%), and an Orcia Sangiovese (a minimum 90% and the rest other native varietals) and both have Riserva versions. Then there is a White wine based on Trebbiano (60%), a Rosato (Rosé) and a Vin Santo dessert wine, while soon there will also be an Orcia bubbly. Forty estates belong to the producers' consortium, out of a total of 60, and there are 153 hectares of registered vineyards, out of a potential 400, and production is in the neighborhood of 280,000 bottles.
The next opportunity to sample Orcia wines will be the Orcia Wine Festival, which takes place every year over the long April 25 holiday weekend in San Quercio d'Orcia, in the province of Siena.
Orcia Sangiovese Troccolone 2018 Capitoni
90/100 - € 10,00
Only Sangiovese from a single, small vineyard parcel, fermented in stainless steel and matured in 5hl terracotta jars. A limpid and lively ruby color. The intense bouquet is very pleasing with scent of small, ripe red fruit, black cherry, cherry and redcurrant, with warm spice notes of cloves and licorice root, floral notes of elder and violet and those of wet rocks. The mouthfeel is fresh and saline with sweet and mature tannins, with an excellent aftertaste with fine sensations of red fruit. Consistent, juicy and original.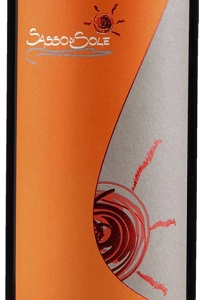 Orcia Sangiovese 2017 Sassodisole
88/100 - € 9
100% Sangiovese Grosso, matured in Slavonian oak barrels. A dark, ruby color with a slightly garnet edge. The aroma has distinct notes of cherry preserved in spirits, scents of violet and a note of vanilla alongside secondary scents of leather and pipe tobacco. The mouthfeel is structured and fresh with slightly green tannins in the finish. Very Tuscan with a good quality/price ratio.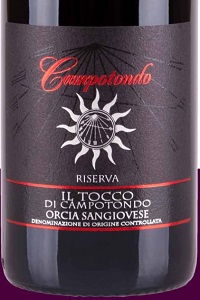 Orcia Sangiovese Il Tocco di Campotondo Riserva 2016 Campotondo
88/100 - € 25
A blend of 90% Sangiovese and 10% Colorino from head-trained vines on Monte Amiata. The wine matures for at least two years in small, French-oak barrels. A dark, ruby color and an intense and dark aroma with notes of graphite, damp earth and blueberry jam. A robust and consistent mouthfeel with excellent wood sensations and a warm and wrapping finish that has notes of roast coffee and wood, which still need to be integrated. Volcanic, youthful boldness.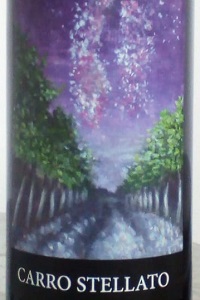 Orcia Carro Stellato 2013 Poggio al Vento
87/100 - € 22
Made with only Sangiovese grapes from a single vineyard that sits at an altitude of 500m above sea level. The wine matures in used French oak barrels for at least two years and has a dark, garnet color. The attack of the mouthfeel is dominated by a smoky, hydrocarbon note before scents emerge of orange, plum jam, caramel, fur and grilled meat. The robust mouthfeel is chewy and pulpy with tannins that are still distinct and a finish that recalls spice and the barnyard. Shy and deep.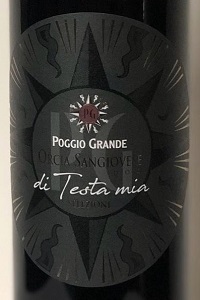 Orcia Sangiovese Di Testa Mia Riserva 2015 Poggio Grande
91/100 - € 35
100% Sangiovese Grosso that macerates for over a month, undergoes spontaneous fermentation and matures for 30 months in French oak barrels. A ruby leaning towards garnet color. The elegant and intense bouquet opens on notes of lively ripe fruit and cherry jam complemented by those of cinnamon, white pepper, graphite and damp earth to then close with a pleasing mentholated scent. The mouthfeel is taut, dynamic and juicy with silky tannins and its youthful sweetness leaves a distinct impression in the finish. Vibrant surprise.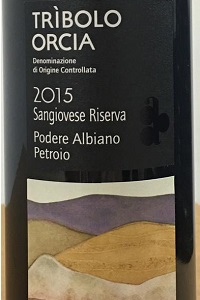 Orcia Sangiovese Tribolo Riserva 2015 Podere Albiano
93/100 - € 23
100% Sangiovese matures for 30 months in 10hl Slavonian oak barrels. An intense ruby color with a garnet edge. The fine and intense aroma has notes of black cherry jam, tangerine, moss, dried mushrooms, black pepper and cloves. The mouthfeel is bold and gushing with a nice freshness as well as taut and long with sweet and silky tannins. Elegance and cloth together.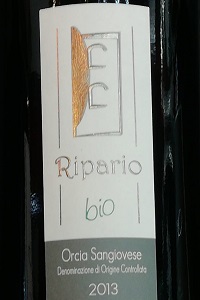 Orcia Sangiovese Ripario 2013 Valdorcia Terre Senesi
87/100 - € 21
100% Sangiovese matured for almost a year in French oak barrels. A dark ruby color with a garnet edge. The aroma is initially reduced with notes of tar, plum jam and dried prunes along with barnyard hints. The structured mouthfeel has a nice acidity with evident wood sensations, especially in the finish. Authentic and mature.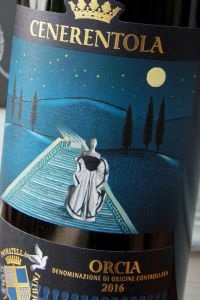 Orcia Cenerentola 2016 Fattoria del Colle
90/100 - € 30
A blend of 65% Sangiovese and 35% Foglia Tonda that matures for 12 months in 5hl barrels and casks. A dark, ruby color and a very intense aroma with lively notes of dark fruit, crushed and slightly overripe cherry, mentholated sensations, black pepper and nuances of Mediterranean shrubs, myrtle and eucalyptus leaf. The mouthfeel abounds with structure, pulp and fruit which amplifies those of the aroma and does then honor, while the finish is still young and leaves a warm sensation of vanilla and roasting. A Super Orcia.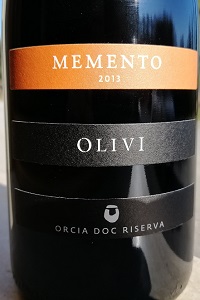 Orcia Memento Riserva 2013 Olivi Le Buche
93/100 - € 30
A blend of 60% Sangiovese and 40% Syrah that matures for two years in wood and ages two years in the bottle. A dark, ruby color and a very intense and modern aroma. A fascinating and stratified wine with its notes of dark fruit, blueberry and blackberry, followed by those of tar, meat, cloves and wet stone. Great finesse and an enviable freshness with an elegant and taut texture. Long. A racehorse difficult to forget.
Related Products
Product
Producer
Date of publication
Author
Read
Troccolone 2018
Orcia
Capitoni
01/21/20
Alessandra Ruggi
Only Sangiovese from a single, small vineyard parcel, fermented in stainless steel and matured in 5hl terracotta jars. A limpid and lively ruby color. The intense bouquet is very pleasing with scent...
Leggi tutto
Sangiovese 2017
Orcia
SassodiSole
01/21/20
Alessandra Ruggi
100% Sangiovese Grosso, matured in Slavonian oak barrels. A dark, ruby color with a slightly garnet edge. The aroma has distinct notes of cherry preserved in spirits, scents of violet and a note of...
Leggi tutto
Il Tocco di Campotondo Riserva 2016
Orcia
Campotondo
01/21/20
Alessandra Ruggi
A blend of 90% Sangiovese and 10% Colorino from head-trained vines on Monte Amiata. The wine matures for at least two years in small, French-oak barrels. A dark, ruby color and an intense and dark...
Leggi tutto
Carro Stellato 2013
Orcia
Poggio al Vento
01/21/20
Alessandra Ruggi
Made with only Sangiovese grapes from a single vineyard that sits at an altitude of 500m above sea level. The wine matures in used French oak barrels for at least two years and has a dark, garnet...
Leggi tutto
Di Testa Mia Riserva 2015
Orcia
Poggio Grande
01/21/20
Alessandra Ruggi
100% Sangiovese Grosso that macerates for over a month, undergoes spontaneous fermentation and matures for 30 months in French oak barrels. A ruby leaning towards garnet color. The elegant and...
Leggi tutto
Tribolo Riserva 2015
Orcia
Podere Albiano
01/21/20
Alessandra Ruggi
100% Sangiovese matures for 30 months in 10hl Slavonian oak barrels. An intense ruby color with a garnet edge. The fine and intense aroma has notes of black cherry jam, tangerine, moss, dried...
Leggi tutto
Ripario 2013
Orcia
Valdorcia Terre Senesi
01/21/20
Alessandra Ruggi
100% Sangiovese matured for almost a year in French oak barrels. A dark ruby color with a garnet edge. The aroma is initially reduced with notes of tar, plum jam and dried prunes along with barnyard...
Leggi tutto
Cenerentola 2016
Orcia
Fattoria del Colle
01/21/20
Alessandra Ruggi
A blend of 65% Sangiovese and 35% Foglia Tonda that matures for 12 months in 5hl barrels and casks. A dark, ruby color and a very intense aroma with lively notes of dark fruit, crushed and slightly...
Leggi tutto
Memento Riserva 2013
Orcia
Olivi Le Buche
01/21/20
Alessandra Ruggi
A blend of 60% Sangiovese and 40% Syrah that matures for two years in wood and ages two years in the bottle. A dark, ruby color and a very intense and modern aroma. A fascinating and stratified wine...
Leggi tutto
Capitoni

06/03/15
Redazione
The Sedime farm, home to the Capitoni estate in near Pienza, is named after the place where farmers would come set down their tools. 50-year-old Marco Capitoni is a man with old fashioned manners and...
Leggi tutto
SassodiSole

01/21/20
Redazione

Campotondo

01/21/20
Redazione

Poggio al Vento

01/21/20
Redazione
A three-time archery champion during the famous Barbarossa historical re-enactment that has taken place every year since 1957 in San Quirico d'Orcia, Roberto Mascelloni has dedicate these...
Leggi tutto
Poggio Grande

01/21/20
Redazione
The lively and passionate Luca Zamperini and his dynamic daughter Giulitta, who now works with him full time, have definitely amazed us with what they can bring out of this area of Ripa. Among the...
Leggi tutto
Podere Albiano

01/21/20
Redazione
Alberto Turri, a born and raised Milan businessman, first fell in love with Anna Becheri, agricultural expert, and then with the Tuscan countryside in Val d'Orcia. In 2000, he took the plunge...
Leggi tutto
Valdorcia Terre Senesi

01/21/20
Redazione

Fattoria del Colle

01/21/20
Redazione

Olivi Le Buche

05/20/11
Redazione