Aglianico Irpinia Campi Taurasini DOC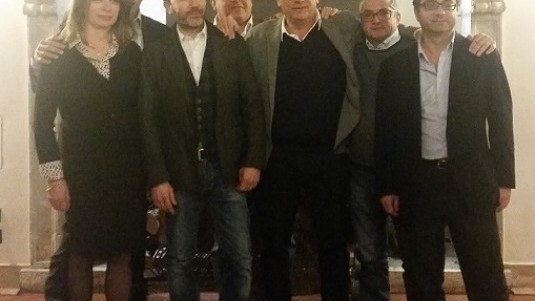 Campi Taurasini DOC is a sub-appellation of Irpinia DOC and incudes the townships of Montemarano, Castelvetere sul Calore and Paternopoli where the grapes are among the last in Italy to ripen. It was here that enologist Vincenzo Mercurio brought three estate together in a project called Comuni nel Vino, a play on words meaning 'towns in wine' and 'wine in common'.
The aim of the project was to produce a more 'authentic' Aglianico, a fresh wine that was already drink a year after harvest. Thus Campi Taurasini can be considered a kind of younger brother of Taurasi, one with a more spirited and less austere personality. It is a wine that is not only easy to drink but also a significant step above the mass of Aglianico-based wines of questionable quality. Taking his cue from economist Adam Smith, Mercurio explained his philosophy as such: "The quality of a wine-producing territory cannot be measured by the few excellent wines made but by the quality of the many stocks wines produced". But these so-called 'stock' wines are much more than that.
The Comuni nel Vino project involves three towns, three terroirs and three young wineries which are only a few kilometers from each other and run by three different couples: the Stefania Barbot estate in Paternopoli of Stefania Barbot and Erminio Spiezia, who are united in life as well as their passion for wine; De'Gaeta in Castelvetere sul Calore, run by brothers Bruno and Salvatore Gaeta; and, in Montemarano, RaRo of Raffaele Fabbrocini and Roberto Seberini, who have been friends for over 30 years and share a deep love for this wonderful corner of the Campania region.
The Calore River runs through and separates these three wineries. Irpinia Campi Taurasini DOC wines are a pleasing reflection of the land and the grape and are a full and authentic expression of the Campania region's geo-diversity. Although the grape is the same, as are the vine-training systems and methods used in the winery, the three Comuni nel Vino wines are each different from the other. In common, these three wineries use only stainless steel in winemaking and have organically cultivated vineyards with very low yields, 4-5,000kg per hectare, less than what is allowed for the production of Taurasi.
The years sampled here were 2013 and 2014. The first was warmer and more consistent, the second was 'unlucky' being first being subject to a violent attack of late blight which decimated the bunches and, in some cases, entire vineyards. The fruit that survived then experienced heavy rain at the end of the summer. However, even if the year was difficult, the 2014 wines turned out to be balanced and well-made.

Related Products