Top 10 Italian Sweet Wines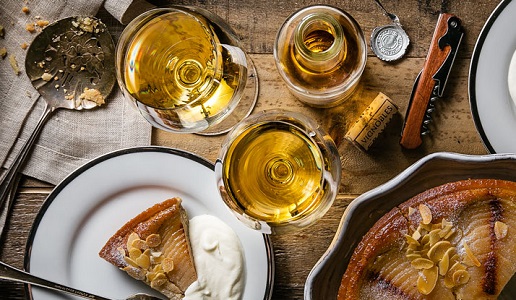 We rarely enjoy a dessert wine at the end of a meal but this is a pleasure that, on the contrary, we should allow ourselves. We suggest these ten best from Italy.
From the Alps to Sicily, Italy has a wealth of dessert or after-dinner wines (the famous meditation wines), wines that can astonish even those who think they don't like sweet wines. Dessert wines come with varying levels of sweetness and, in order to appeal to all, we have included here even two dry wines: a Marsala and a Malvasia di Bosa.
We are sure that reading this Top10 list you will find a wine that will appeal to your tastes and - we are certain – allow you to fully enjoy this very pleasurable moment of relax at the end of a meal.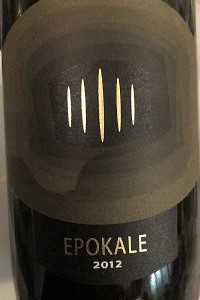 AA Gewürtztraminer Epokale Spätlese 2012 Cantina Tramin
98 - € 75,00
100% Gewürtztraminer grapes. Stainless steel for 8 months and 8 years in bottle in a mine at 2000 mt of altitude. Golden yellow color. Attractive aromas of exotic fruits, citrus and a hint of white pepper. Sumptuous taste, concentrated and extraordinary elegance. Smooth and neat. Very long finish, coherent, spicy and fascinating.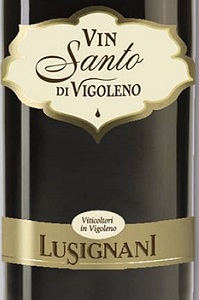 Colli Piacentini Vin Santo di Vigoleno 2009 Lusignani
98 - € 45,00 *0.375 bottle
Blend of Beverdino, Santa Marina, Melara, Trebbiano and Ortrugo dried on straw mats for 3 months. Matures 6 years in durmast caratelli and in gradually smaller barriques with rackings, using the same method of production of the traitional balsamic vinegar. Intense and dense amber color. Extraordinary complex aromas with notes of eucalyptus, then antique wood, coffee liquor, tamarind, dry dates, walnut liquor and nuts. Sweet but neat taste, very elegant, with a neverending finish. Great wine. It's the Italian answer to the great Madeira.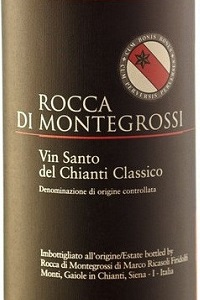 Vin Santo del Chianti Classico 2008 Rocca di Montegrossi
97 - € 49,00 *0.375 bottle.
100% Malvasia del Chianti grapes. Dried on straw mat. Aged in caratelli for 7 years. Bright amber. Incredible complex nose profile: orange blossom honey, walnut liqueur, date, dried apricot and scent of eucalyptus. Sweet and full bodied, charming, luscious and with an endless length. A great wine.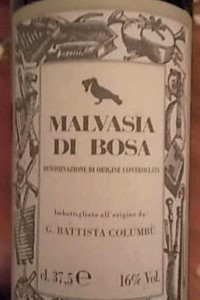 Malvasia di Bosa Riserva 2014 G.Battista Columbu
97 - € 35,00 *0.500 bottle.
100% Malvasia di Bosa grapes. Matures in 300, 400 and 500 liters chestnut barrels for 42 months. Bright amber color. Powerful aromas of barely candies, spices and dry apricots. Warm taste, Mediterranean, powerful but with an impressive savory and very fresh note. Rich, very long finish with notes of iodine.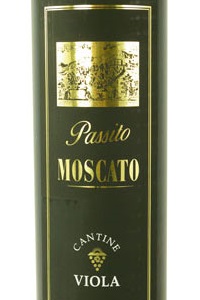 Moscato Passito di Saracena 2016 Cantine Viola
96 - € 40,00 *Bottiglia da 0,500.
Blend of Guarnaccia, Malvasia and Moscatello di Saracena grapes. Stainless steel for at least 7 months on the yeasts. Golden color with amber hues. Intense and complex aromas, clear and elegant notes of dry apricots, candied orange zests, creme brulee and pastry cream. Very elegant and complex taste, sweet and enveloping but sustained by a very balanced acidity. Iodine and honey candies in the finish. Extraordinary.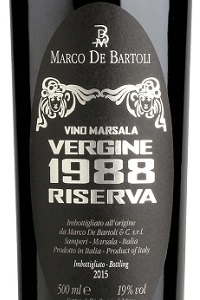 Marsala Vergine Riserva 1988 De Bartoli
96 - € 120,00 *0.500 bottle.
100% Grillo from Contrada Samperi. Fortified in 1988 with alcohol and bottled in 2019. Amber color with topaz hues. Very elegant and complex aromas of dry figs, licorice and coffee with milk. Then toffee and toasted hazelnuts. Rich sip, wide and very consistent, incredible balance with notes of licorice. The acidity makes it very pleasant. Almost neverending. The only Marsala Vergine produced by Marco De Bartoli.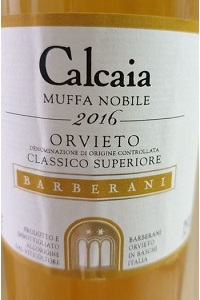 Orvieto Classico Superiore Muffa Nobile Calcaia 2016 Barberani
96 - € 55,00 *0.500 bottle.
Blend of 80% Grechetto, 20% Procanico grapes. Stainless steel only. Intense and bright golden yellow color. Impressively complex aromas of bitter citrus, saffron, caramel, acacia honey and iodine. Delicately sweet taste, balanced body, nice acidity that makes it agile and elegant. Slightly bitter finish of incredible persistence. A masterpiece.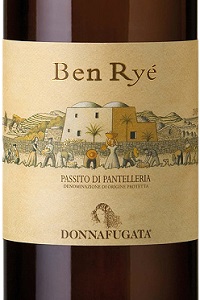 Pantelleria Passito Ben Ryé 2016 Donnafugata
96 - € 45,00 *0.375 bottle.
100% partially dried Zibibbo grapes. Stainless steel for 7 months on the yeasts. Intense golden yellow color. Attractive and unique aromas with typical and neat aromas of dry apricots, then dates, white fruits jam and delicate puffs of fresh almonds. Deliciously sweet taste, rich, warm, enveloping and incredibly persistent. Great version.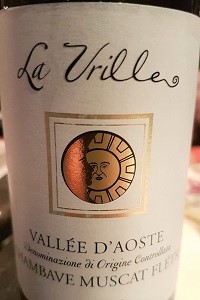 Valle d'Aosta Chambave Muscat Flétri 2017 La Vrille
95 - € 36,00 *0.375 bottle.
100% Muscat Petit Grain grapes. Naturally dried in boxes, stainless steel only. Intense golden yellow color. Intense aromas of caramelized fruits, candied cedar and apricot jam together with vanilla. Dense, elegant and very persistent taste.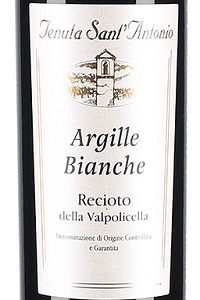 Recioto della Valpolicella Argille Bianche 2011 Tenuta Sant'Antonio
94 - € 45,00 *0.375 bottle.
Blend of 70% Corvina, 20% Rondinella, 5% Croatina and 5% Oseleta grapes dried for 4 months. Matures 3 years in barrels. Intense ruby red color. Aromas of flowers, sweet spices, red and yellow fruits and figs jam. Nice freshness in the mouth, balanced sweetness. Notes of yellow plums and jujube. Pleasant persistence and notes of chocolate and cherries in the finish.
Related Products