My Bordeaux: the 1970s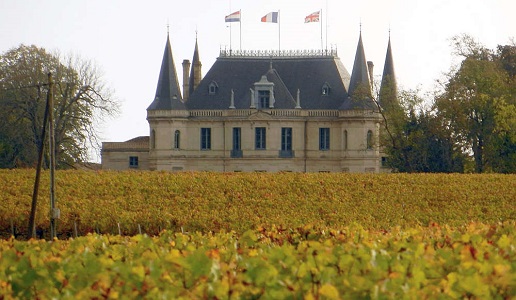 A decade without highpoints is today offering some extraordinary wines.
Although the majority of the headquarters of the leading maisons in Bordeaux are sumptuous residences, many of which built in a neo-classic style, a Château du vin in Bordeaux is looked upon as a center for wine production, built by its owners to have a suitable location to transform the grapes into wine. And they are referred to as Château regardless of their architectural style. This is particularly evident should you visit the residence, which has anything but an aristocratic style, Château Petrus (according to Paolo Mazza).
The 1970s in Bordeaux were a decade with apparently no peaks to qualify as historic years but this was a wrong assumption. It is today a decade that is opening its peacock feathers with extraordinary sensorial complexity and detail, especially for vintage 1978 that now astonishes with its freshness, expressive boldness and great integrity during comparative and vertical tastings. When wines from this vintage came out, I remember them as being very taut, with an imperfect tannic-acidic balance and a tartness that was more than often not welcome. As is often the case with Bordeaux wines, one needed only to have patience and wait.
PS: the prices indicated refer to those at auctions, given that the wines are difficult to wine elsewhere.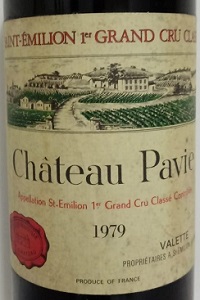 Saint Emilion Premier Grand Cru Classé 1979 Château Pavie
90/100 - € 200
A relatively bold color with distinct garnet reflections and a note of orange on the edge. The aromas are bottle aging ones of licorice, bark and chanterelle and honey mushrooms. However, this does not mean the wine on in the decline, quite the contrary, the mouthfeel is solid and has excellent vigor.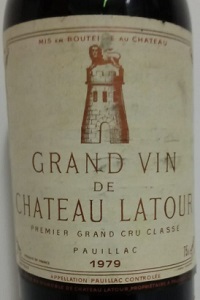 Pauillac Premier Grand Cru Classé 1979 Château Latour
96/100 - € 550
An intact and bold red garnet color with a bouquet that is slightly closed and "wild" initially but with breathing opens with splendid notes of autumnal underbrush, dried leaves and oak bark. The mouthfeel is very silky with splendid tension and amazing balance and integrity making it wrapping and super fine. Leviathan.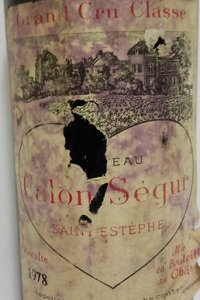 Saint Estephe Troisième Cru Classé 1978 Château Calon Ségur
91/100 - € 100
As I said earlier, a splendid year that is offering unexpected satisfaction, perhaps by favorite Bordeaux vintage from the 1970s.
A clear red color with distinct garnet hues and aromas that are definitely those from bottle aging and veer towards forest notes, with those of cinchona and juniper quite evident. The earthy note is subtle as is that of humus. The mouthfeel is almost lithe, very balanced and elegant making it a noble drop. A great example of how even in Bordeaux a wine that is not ranked that high (Calon Ségur is a Troisième Cru Classée Saint Estephe) can have an extraordinary propensity to age.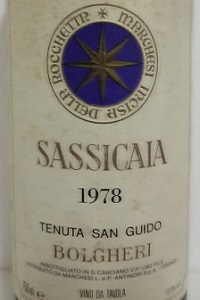 Ringer of comparison: Sassicaia 1978 Tenuta San Guido
95/100 – around 700 euros at an auction.
A wine of national pride with its bold and splendid garnet color and aromas of Mediterranean shrubs, tamarind and cacao with fine spice. The rounded mouthfeel still has a lively freshness, a monument to Italian winemaking.
Another example of how Sassicaia has an extraordinary propensity to age and can match itself with the great Bordeaux.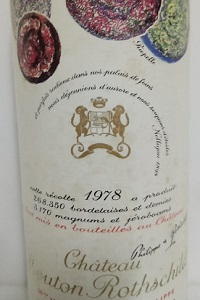 Pauillac Premier Cru Classé 1978 Château Mouton Rothschild
98/100 - € 700
An example of an 1855 historic mistake in classification that "relegated" this to a Deuxième Cru level, one which was corrected in 1973 (one of the few cases that classification was rectified) lifting it rightfully to a Premiers Cru Classée.
The color is unreal, a bold red with only a few garnet notes on the edge. The aroma has an incredible structure still focused on wild berries, even if in jam form (blueberry and blackberry), along with an evident balsamic notes and those of Arabian coffee and dark cacao in the background. The mouthfeel has an incredible perfection, very balanced with velvety tannins and a texture that is a silk drape.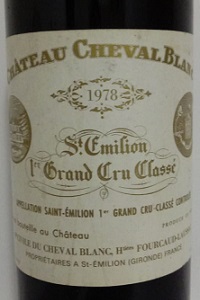 Saint Emilion Premier Grand Cru Classé 1978 Château Cheval Blanc
97/100 - € 450
1978 proved also splendid for the Rive Droite (Right Bank), based on what we can taste today.
A relatively bold red color with light garnet hues on the edge. The intact aromas have aged splendidly in the bottle with scents of shag tobacco, juniper wood and dark chocolate. The balsamic sensation is suffused and pleasing as are the notes of tar in the background. The mouthfeel is velvety, soft and sensual enough to captivate any palate.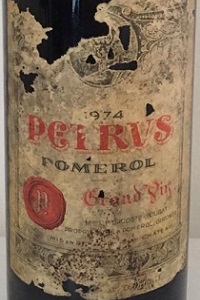 Pomerol 1974 Château Petrus
94/100 - € 1700
A vintage you would not expect. The color is anything but concentrated with its almost tenuous red hosting lovely and intact purple reflections. The nose is decidedly spicy, black pepper and juniper with hints of cloves, and with breathing a note of autumnal underbrush, almost like mushroom, emerges. The mouthfeel has an unexpected tension and a lively acidity on a structure that is anything but pachydermic but rather has surprising finesse.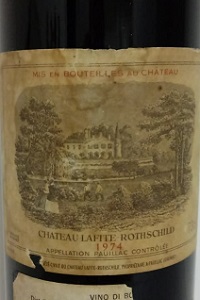 Pauillac Premier Grand Cru Classé 1974 Château Lafite Rothschild
95/100 - € 600
An intense and nicely concentrated red-garnet color that in no way reflects its almost 45 years of age. The aromas are decidedly those from bottle aging with woody notes and those of peppercorn and dried bark along with balsamic hints and mushroom sensations. The silky mouthfeel has exemplary rectitude and a great and aristocratic texture.
Related Products
Product
Producer
Date of publication
Author
Read
Saint Emilion Premier Grand Cru Classé 1979
Saint Emilion Premier Grand Cru Classée
Chateau Pavie
03/05/20
Vinogodi
A relatively bold color with distinct garnet reflections and a note of orange on the edge. The aromas are bottle aging ones of licorice, bark and chanterelle and honey mushrooms. However, this does...
Leggi tutto
Pauillac Premier Grand Cru Classé 1979
Pauillac Premiere Grand Cru Classé
Château Latour
03/05/20
Vinogodi
An intact and bold red garnet color with a bouquet that is slightly closed and "wild" initially but with breathing opens with splendid notes of autumnal underbrush, dried leaves and oak...
Leggi tutto
Saint Estephe Troisième Cru Classé 1978
Saint Estephe Troisième Cru Classé
Château Calon Ségur
03/05/20
Vinogodi
As I said earlier, a splendid year that is offering unexpected satisfaction, perhaps by favorite Bordeaux vintage from the 1970s. A clear red color with distinct garnet hues and aromas that are...
Leggi tutto
Sassicaia 1978
Bolgheri Sassicaia
Tenuta San Guido
03/05/20
Vinogodi
A wine of national pride with its bold and splendid garnet color and aromas of Mediterranean shrubs, tamarind and cacao with fine spice. The rounded mouthfeel still has a lively freshness, a monument...
Leggi tutto
Pauillac Premier Cru Classé 1978
Pauillac Premiere Grand Cru Classé
Château Mouton Rothschild
03/05/20
Vinogodi
An example of an 1855 historic mistake in classification that "relegated" this to a Deuxième Cru level, one which was corrected in 1973 (one of the few cases that...
Leggi tutto
Saint Emilion Premier Grand Cru Classé 1978
Saint Emilion Premier Grand Cru Classée
Chateau Cheval Blanc
03/05/20
Vinogodi
1978 proved also splendid for the Rive Droite (Right Bank), based on what we can taste today. A relatively bold red color with light garnet hues on the edge. The intact aromas have aged...
Leggi tutto
Pomerol 1974
Pomerol
Chateau Petrus
03/05/20
Vinogodi
A vintage you would not expect. The color is anything but concentrated with its almost tenuous red hosting lovely and intact purple reflections. The nose is decidedly spicy, black pepper and juniper...
Leggi tutto
Pauillac Premier Grand Cru Classé 1974
Pauillac
Château Lafite Rothschild
03/05/20
Vinogodi
An intense and nicely concentrated red-garnet color that in no way reflects its almost 45 years of age. The aromas are decidedly those from bottle aging with woody notes and those of peppercorn and...
Leggi tutto
Chateau Pavie

08/02/13
Redazione

Château Latour

11/04/11
Redazione

Château Calon Ségur

03/03/20
Redazione

Tenuta San Guido

05/02/11
Redazione
This estate is right next to the Cyprus tress that Carducci said "run in rows to San Guido". Everyone identifies this estate with Sassicaia, an icon of Italian winemaking. It is owned by...
Leggi tutto
Château Mouton Rothschild

11/04/11
Redazione

Chateau Cheval Blanc

11/04/11
Redazione

Chateau Petrus

03/23/16
Redazione

Château Lafite Rothschild

11/03/11
Redazione
Related Articles
| | | | | | |
| --- | --- | --- | --- | --- | --- |
| | My Bordeaux: Introduction | 06/02/2020 | Vinogodi | Tasting notes | |
| | My Bordeaux: the 1980s | 27/02/2020 | Vinogodi | Tasting notes | |
| | My Bordeaux: the 1990s | 19/02/2020 | Vinogodi | Tasting notes | |
| | My Bordeaux: the grand cru of the 1990s | 20/02/2020 | Vinogodi | Tasting notes | |
| | My Bordeaux: The new millennium | 13/02/2020 | Vinogodi | Tasting notes | |