Brunello di Montalcino 2016, the tasting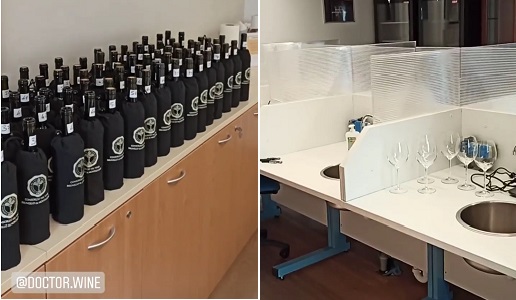 After yesterday's analysis of the vintage, today we post a list of the wines that impressed us the most among the almost 200 we tasted from this wonderful year: we have divided them between 15 Brunello and 20 selections or crus.
The response of producers to our request made through the producers' association was truly flattering. The samples were many and, as we said yesterday, were tasted at the association's headquarters which ensured that there was no indication of their identity.
A note about the tasting: some of the wines suffered from having only recently been bottled, especially in regard to their bouquet (which was not expressed well). We have suspended any judgement of these wines, also because their flavors were nevertheless good and it would not have been right to penalize them. We will taste them again in a few months. Nevertheless, many producers had already bottled their wines before the summer and this proved only beneficial to the product.
Brunello di Montalcino 2016
Giodo 98

Poggio di Sotto 98

San Lorenzo 97

Casisano Colombaio 96

Fuligni 96

Armilla 95

Celestino Pecci 95

Collosorbo 95

Il Poggione 95

La Fiorita 95

Solaria 95

La Fortuna 94

Castello Tricerchi 94

Tenuta La Fuga 94
Brunello di Montalcino Selezione 2016
Casanova di Neri, Tenuta Nuova 98

La Magia, Ciliegio 98

Marroneto, Madonna delle Grazie 98

Argiano, Vigna del Suolo 97

Banfi, Vigna Marrucheto 97

Canalicchio di Sopra, La Casaccia 97

Castello Romitorio, Filo di Seta 97

Mastrojanni, Vigna Loreto 97

Pieve di Santa Restituta, Sugarille 97

San Polo, Vigna Vecchia 97

Talenti, Piero 97

Val di Suga, Vigna Spuntali 97

Altesino, Montosoli 96

Mocali, Le Raunate 96

Palazzo, Cosimo 96

Podere Le Ripi, Amore e Magia 96

San Filippo, Le Lucere 96

Silvio Nardi, Poggio Doria 96

Siro Pacenti, Pelagrilli 96

Ventolaio Fanti Luigi, Colle del Fante 96
Related Articles