A preview of Brunello di Montalcino 2014 and Riserva 2013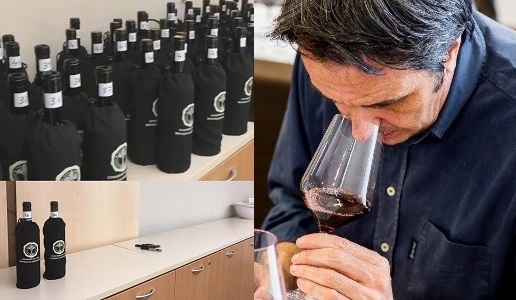 This first tasting revealed the great drinkability, without any triteness, of vintage 2014 and the significant qualities of the 2013 reserve and select wines.
Thanks the Consorzio del Brunello di Montalcino producers' association, at the end of January we had the opportunity to taste over 100 Brunello di Montalcino 2014 and some 40 reserve and select wines. We would also like to thanks those producers who took part in our tasting and those who allowed to do so at their wineries. The DoctorWine delegation was composed of managing editor Stefania Vinciguerra, Dario Cappellonii, who is also deputy chief editor of our Essential Guide, and yours truly.
We will start with some observations on the "much anticipated" vintage 2014. The surprise from this tasting was summed up the best by Cappelloni: "I hadn't been to Montalcino for some years but the progress that has been made is evident: will-interpreted wines, an incredible number of Brunello that range from good to excellent from a year like 2014 that had distinct problems with the weather. This is evidence that producers have a clear idea of what needs to be done and how to do it both in the vineyard and in the winery". I can only share his observation. Sometimes I can be a bit bias in Montalcino but this time I was keep in check by the severity of my colleagues. The end result were positive evaluations of a vintage that was too soon branded by many as horrible.
Generally speaking, these Brunello 2014 focus a lot on drinkability, for sure, but they are neither trite nor simple, free from any of those green notes or bitter and rough tannins we encountered with Sangiovese wines from other areas. This vintage will probably not last 20 years but for sure for at least the next ten it will maintain the drinkability and harmony that make it perfect now to pair with almost any food. Brunello 2014 will also appeal to those who, usually, consider this wine to be a bit too bold and aggressive when young.
An area that did particularly well in Montalcino was the ridge that runs towards Castiglion del Bosco from Passo del Lume Spento, which also on the route of the L'Eroica bicycle race held in the province of Siena. Evidently, the delay in ripening, due to the rain in August, allowed the grapes to better resist the bad weather and this, along with the characteristic ventilating winds in the area, also ensured they better exploited the better weather in September and producers were able to bring good grapes to their wineries. Many estates in this and neighboring areas turned out some excellent Brunello from this harvest.
There was excellent news regarding Riserva 2013, even if the number of bottles produced was lower than in better years. This was a clear indication that a year to praised by some, while both good and interesting, has problems, above all in certain zones.
After many years dealing with Montalcino, I have understood that the best classification of vintages come from the producers themselves, through the choice of wines they decide to make and how many bottles to produce of these wines. This is a far better indication than the "intuition" of journalists who visit the area only for the "Benvenuto Brunello" tasting event. The following reviews are of the wines we found to be the most interesting during the tastings, beginning with vintage 2013.
THE BEST 2013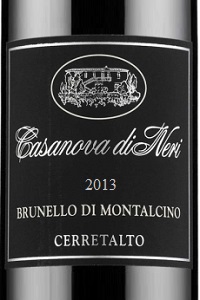 Brunello di Montalcino Cerretalto 2013 Casanova di Neri
A dark, intact ruby color and a broad and intense aroma with a vein of dark fruit, blackberry and cherry with a floral hint of violet and warm spice notes and a light, persistent and refreshing balsamic after-aroma. The intense mouthfeel has a thick and progressive texture with evident and polished tannins and a nice acidity. The intense and persistent finish is more austere than in other vintages but always top-rate.
98/100
€ 300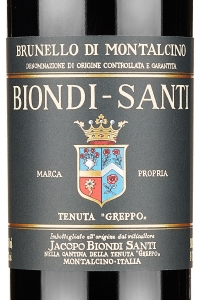 Brunello di Montalcino Tenuta Greppo 2013 Biondi Santi
This was not a reserve but came out this year as a selection wine. It has a classic, slightly garnet ruby color and a classic and intense aroma with light notes of blond tobacco and fruity ones of cherry and, quite surprisingly, blackberry. The mouthfeel is very alluring with a saline progression and well-integrated tannins. The finish is disarming, alluring and very persistent.
96/100
€ 150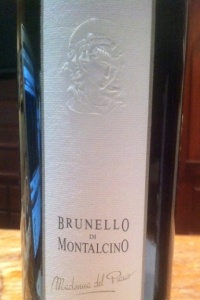 Brunello di Montalcino Madonna del Piano Riserva 2013 Valdicava
A bright, slightly garnet ruby color and an intense and clear bouquet that is slightly smoky with dark floral notes, a light scent of spice and aromas of spice, sour and other cherries varieties, even white ones. The mouthfeel has class with its elegant and progressive texture, young and integrated tannins, flavorful saline vein and decidedly persistent aftertaste that recalls underbrush.
96/100
€ 140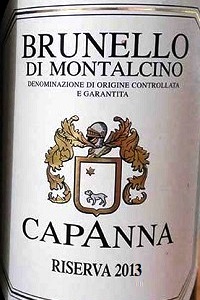 Brunello di Montalcino Riserva 2013 Capanna
A bright, ruby color that leans slightly towards garnet and a fascinating bouquet with evident fruity scents of cherry, Marasca cherry, a hint of blackberry and a dash of medicinal herbs. The intense and progressive mouthfeel nicely holds the youthful tannins in check along with a nice acidity. The finish is persistent and muscular.
96/100
€ 60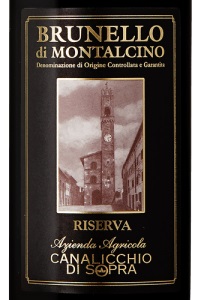 Brunello di Montalcino Riserva 2013 Canalicchio di Sopra
A very intense, ruby color and a bouquet that plays on fresh notes of citrus and slightly balsamic medicinal herbs with those of Marasca and red cherry acting as a counter point. The mouthfeel has a thick texture, already polished tannins and an excellent acidity that upholds a flavorful and elegant finish. The persistence is excellent for a wine that is more elegant than bold.
95/100
€ 85
THE BEST 2014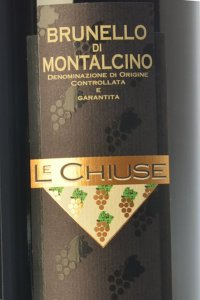 Brunello di Montalcino 2014 Le Chiuse
A bright but not excessive ruby color and an intense and clean aroma with intense floral notes of violet, red fruit like various varieties of cherry and a light balsamic sensation. The mouthfeel is unexpectedly balanced and full of personality with balanced tannins, a lovely salty acidity and pronounced progression that leads to a decidedly persistent finish with a floral after-sensation.
95/100
€ 48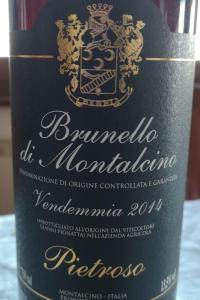 Brunello di Montalcino 2014 Pietroso
A compact and bright ruby and clear aroma of cherry, including white, yellow spice and a smoky hint. The mouthfeel is dominated by a relaxed and evident acidity that nicely pairs with the polished tannins. The finish is juicy and elegant, decidedly persistent.
95/100
€ 45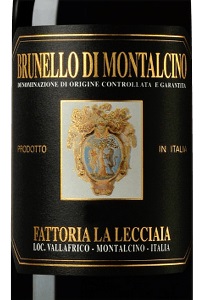 Brunello di Montalcino 2014 La Lecciaia
A dark ruby leaning towards garnet and classic bouquet with notes of tobacco, aromatic and medicinal herbs and a hint of red fruit. The balanced mouthfeel has young yet rounded tannins, a lovely drinkability and surprising finish.
94/100
€ 32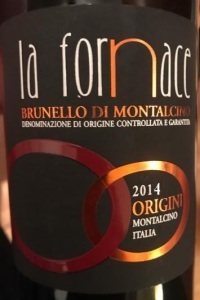 Brunello di Montalcino Origini 2014 La Fornace
A lovely, intense and alluring ruby color and aromas of black and white cherries, a smoky hint and notes of medicinal herbs. The mouthfeel is unexpected, rich yet taut and nervous thanks to youthful tannins, while a nice freshness leads to a decidedly juicy finish.
93/100
€ 50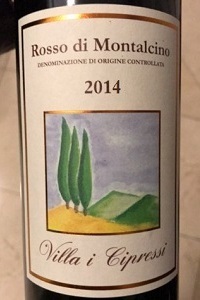 Brunello di Montalcino 2014 Villa I Cipressi
A bright and intact ruby color and an intense and clear aroma with distinct scents of dark and red fruits and a pleasing floral note of violet. An unexpected mouthfeel that has a thick, progressive texture with young and polished tannins and a fresh acidity and a persistent and balanced finish.
93/100
€ 40
Related Products
Product
Producer
Date of publication
Author
Read
Cerretalto 2013
Brunello di Montalcino
Casanova di Neri
02/08/19
Riccardo Viscardi
A dark, intact ruby color and a broad and intense aroma with a vein of dark fruit, blackberry and cherry with a floral hint of violet and warm spice notes and a light, persistent and refreshing...
Leggi tutto
Tenuta Greppo 2013
Brunello di Montalcino
Biondi Santi Tenuta Greppo
02/08/19
Riccardo Viscardi
This was not a reserve but came out this year as a selection wine. It has a classic, slightly garnet ruby color and a classic and intense aroma with light notes of blond tobacco and fruity ones of...
Leggi tutto
Madonna del Piano Riserva 2013
Brunello di Montalcino
Valdicava
02/08/19
Riccardo Viscardi
A bright, slightly garnet ruby color and an intense and clear bouquet that is slightly smoky with dark floral notes, a light scent of spice and aromas of spice, sour and other cherries varieties,...
Leggi tutto
Brunello di Montalcino Riserva 2013
Brunello di Montalcino
Capanna
02/08/19
Riccardo Viscardi
A bright, ruby color that leans slightly towards garnet and a fascinating bouquet with evident fruity scents of cherry, Marasca cherry, a hint of blackberry and a dash of medicinal herbs. The intense...
Leggi tutto
Brunello di Montalcino Riserva 2013
Brunello di Montalcino
Canalicchio di Sopra
02/08/19
Riccardo Viscardi
A very intense, ruby color and a bouquet that plays on fresh notes of citrus and slightly balsamic medicinal herbs with those of Marasca and red cherry acting as a counter point. The mouthfeel has a...
Leggi tutto
Brunello di Montalcino 2014
Brunello di Montalcino
Le Chiuse
02/08/19
Riccardo Viscardi
A bright but not excessive ruby color and an intense and clean aroma with intense floral notes of violet, red fruit like various varieties of cherry and a light balsamic sensation. The mouthfeel is...
Leggi tutto
Brunello di Montalcino 2014
Brunello di Montalcino
Pietroso
02/08/19
Riccardo Viscardi
A compact and bright ruby and clear aroma of cherry, including white, yellow spice and a smoky hint. The mouthfeel is dominated by a relaxed and evident acidity that nicely pairs with the polished...
Leggi tutto
Brunello di Montalcino 2014
Brunello di Montalcino
Fattoria La Lecciaia
02/08/19
Riccardo Viscardi
A dark ruby leaning towards garnet and classic bouquet with notes of tobacco, aromatic and medicinal herbs and a hint of red fruit. The balanced mouthfeel has young yet rounded tannins, a lovely...
Leggi tutto
Origini 2014
Brunello di Montalcino
La Fornace
02/08/19
Riccardo Viscardi
A lovely, intense and alluring ruby color and aromas of black and white cherries, a smoky hint and notes of medicinal herbs. The mouthfeel is unexpected, rich yet taut and nervous thanks to youthful...
Leggi tutto
Brunello di Montalcino 2014
Brunello di Montalcino
Villa I Cipressi
02/08/19
Riccardo Viscardi
A bright and intact ruby color and an intense and clear aroma with distinct scents of dark and red fruits and a pleasing floral note of violet. An unexpected mouthfeel that has a thick, progressive...
Leggi tutto
Casanova di Neri

07/04/11
Redazione
Over the past 20 years this estate has climbed to the top in Montalcino. It has 65 hectares of vineyards situated in different locations in the area and a cutting-edge winery that is a model for the...
Leggi tutto
Biondi Santi Tenuta Greppo

07/04/11
Redazione
On December 16, 2016, the historic Biondi Santi estate in Montalcino was sold to the French Descort family and its EPI group, the world's leading luxury conglomerate (Bonpoint, J.M. Weston,...
Leggi tutto
Valdicava

04/23/13
Redazione
Vincenzo Abbruzzese has two great passions, Brunello and horses, and you can often see him riding through his vineyards and even in town. His estate has some 27 hectares of vineyards all located in...
Leggi tutto
Capanna

02/10/12
Redazione
This beautiful winemaking reality has for years benefited from the sure hand and dynamic personality of Patrizio Cencioni. Located in the northern area of Montalcino, at the feet of Montosoli, the...
Leggi tutto
Canalicchio di Sopra

10/04/12
Redazione
The winery of the three, young and skilled Ripaccioli siblings is quickly climbing the ladder in Montalcino thanks the reliability and quality of their wines. The vineyards are very well cared for in...
Leggi tutto
Le Chiuse

10/12/12
Redazione
This ancient estate was once part of the Biondi-Santi holdings but in 1986, Elisabetta Valiani decided to strike out on her own, after she inherited it from the female side of the family, and began...
Leggi tutto
Pietroso

04/21/17
Redazione
This family-run estate has some four hectares registered as Brunello denomination that are in vineyards located in three different areas of Montalcino, the preferred being the ones at the higher...
Leggi tutto
Fattoria La Lecciaia

02/08/19
Redazione

La Fornace

10/04/12
Redazione
Fabio Giannetti is bringing his family estate to new heights. This in regard to the overall quality and potential of their vineyards, situated in the area of Fornaci on the eastern side of Montalcino...
Leggi tutto
Villa I Cipressi

02/08/19
Redazione