Cinqueanni Ruggeri, a Prosecco Superiore that can age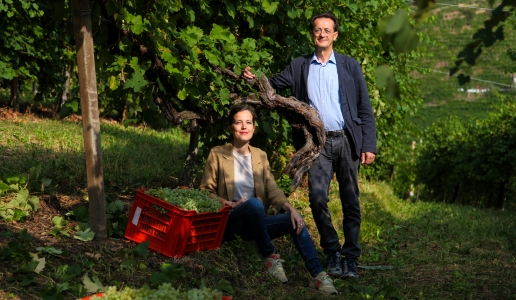 This thanks to the Ruggeri winery's over-100-year-old vines, an amazing know-how and a land, Valdobbiadene, which still amazes.
On June 14, during the annual dinner with their grape suppliers, the Ruggeri winery introduced their novelty for 2019: Cinqueanni (Five Years). This is an "aged" Prosecco that demonstrates how Valdobbiadene, thanks to the high acidity of the soil and the presence of over-100-year-old vines, can produce a great Italian traditional method sparkling wine that can stand the test of time.
The Ruggeri winery was founded in 1950 by Giustino Bisol in Santo Stefano, in an area now known as that of Prosecco Superiore DOCG. A branch of the Bisol is still in charge of the winery together with theRotkäppchen-Mumm Sektkellereien group that acquired it in 2017. With the grapes of its 120 suppliers, Ruggeri produces around a million bottles a year and exports 60% of them to 45 countries, Britain the first among them.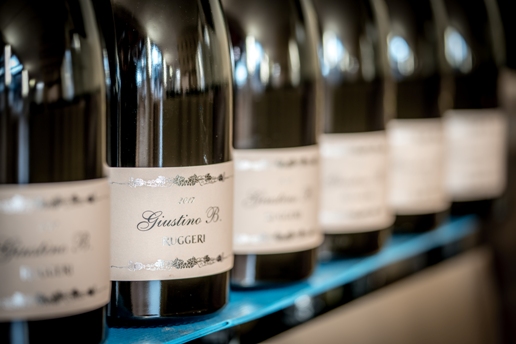 Aside from their excellently produced stock products, which are easy to drink and have a simple and linear flavor, Ruggeri also produces three wines that are a cut above these lines and demonstrate another aspect of Valdobbiadene: its propensity to age. According to Paolo Bisol, the founder's son and Ruggeri's brand ambassador, there are various factors that allow these wines to age, first amongthese the presence of very old vines with rootstocks that range from 80 to 120 years old. They were able to reach this age because the phylloxera plague came relatively early to the zone, forcing wine growers to replace their vines grafting new shoots to rootstocks with deep taproots. Added to this was a soil rich in fossils that give the grapes and wines Salinity and freshness.
To prove that Prosecco can age in the cellar and in the bottle, before presenting the subject of the presentation we were treated to an historic vertical tasting of the winery's select wines: Valdobbiadene Prosecco Superiore Vecchie Vite Brut and Valdobbiadene Prosecco Superiore Giustino B. Extra Dry.
The vintages tasted of both wines were 2017, 2016, 2015, 2014 and 2008. As a final surprise we were given a Giustino B. 1999, a bottle that this year turned 20. All the vintages were pleasingly drinkable with fruity and sometimes floral aromas still present, exalted by an interesting freshness in the mouthfeel. The only noticeable deviation was with the 2008 wines, a vintage for which the corks had not been replaced with a more reasonable and technological alternative. "Restaurants are beginning to ask us for more vintages of the same wine to place on their list so they, too, can offer their clients the possibility of having a small vertical tasting at the table," Paolo Bisol told us, proud of this new trend.
Once this was over it finally came time for Cinqueanni. The name is explained by the fact that the wine spent four years in an autoclave and aged one year in the bottle before reaching the market: a total of five years from the harvest.
This wine was a unique occurrence, produced only one year without the presumption in the future, to produce others. "This was the first time that a Prosecco was not brought out in the first year because we wanted to show how it can evolve in the autoclave and in the bottle for years," explained Stefan Nienaber, a member of the Ruggiero board of directors. To do this took years of study before enologist Fabio Roversi, with the support of Paolo Bisol, could give birth to this project.
Valdobbiadene Prosecco Superiore Cinqueanni Brut, 4,500 bottles without the possibility (for now) of being repeated. Each come in a prestigious package. It is a Prosecco that does not disappoint expectations and, in the words of "casa Ruggeri", more than lives up to expectations. A truly elegant Italian bubbly but one that does not lack Prosecco's extremely pleasing character and drinkability.
It would thus appear that the land of Prosecco, about which we thought we had said and seen everything, in reality still has some interesting things to explore and reveal. Given that only 4,500 bottles were produced, I think this was a provocation, one aimed at opening our eyes and having us believe once again in a territory that, to be honest, we had begun to take for granted.
Related Products