Touch Champagne with CIVC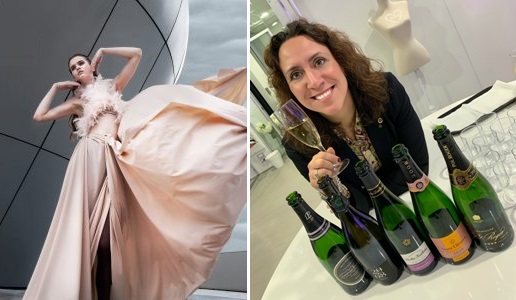 As delicate a chiffon, a smooth as satin, as prestigious as damask… an interesting evening in which Champagne pinched the terminology of fashion.
The Epernay-based Comité Interprofessionnel du Vin de Champagne (CIVC) is represented in Italy by the Bureau du Champagne that has as its mission promoting, enhancing the fame and safeguard Champagne. Among its many initiatives of recent years, carried out with the support of the Ambassadeurs du Champagne (including Chiara Giovoni who was appointed in 2012), was one last December that offered the press a tasting experience under the unusual name: "Touch Champagne".
It was, in fact, the third such event in a project dedicated to the five senses that began with one focusing on the sense of smell – for which a catalogue was complied with 52 elements that represented the evolution of Champagne's bouquet – and was followed by another that centered on hearing. The latter paired musical pieces with different cuvée with a piano recital of compositions by Satie, Couperin, Schubert and Ravel.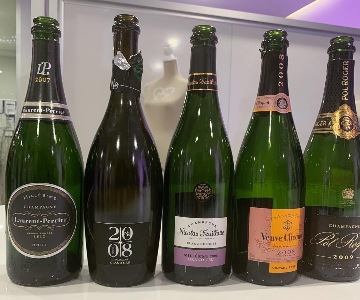 Touch was the subject of this latest event and the location for this occasion was Milan's Ferrari Fashion School. I played the role of guide, like Virgil to Dante, for the exploration of perceptions for Champagne that were similar to the tactile ones offered by different fabrics. Those familiar with the tasting notes of sommeliers or wine critics will have noticed how sometimes the descriptions of a wine (and at times the best adjectives) go beyond defining primary and secondary aromas and often involve a terminology that leans towards the figurative sense, evocative words that offer a broader suggestion to the reader and thus a more efficient interpretive key. With this in mind, CIVC Communications Director Thibaut Le Mailloux underscored at the event how "the work of the chef de cave is not that much different than that of a fashion designer, one in which creativity goes hand-in-hand with a skill to select and assemble elements".
The world of fabrics and fashion undoubtedly offers many appropriate verbal expressions, especially for describing a bubbly, and this tasting organized by the Bureau du Champagne was an occasion to identify words defining tactile sensations useful for defining the five very different cuvée offered at the event. Participants were asked to decipher each Champagne by breaking them down using fashion adjectives and then, with scissors in hand, to cut samples of the fabrics that were made available - which had different weights, colors, textures and materials – to create a "swatch book" similar to those used by a designer to decide which fabric and colors to use to create a dress.
It was surprising to see how the five vintage Champagnes, expressions not only of a Maison's style but also of a particular harvest, were interpreted by the participants who often selected similar fabrics. This was evidence of how at times only a little focus and thought are needed to identify the key to a wine, elements that represent its expressive identity.
The five Champagnes offered at the event were the delicate chiffon of Laurent Perrier Brut Millésimé 2007, the satin smooth Cuvée Dame de la Renaissance 2008, the prestigious damask of Nicolas Feuillatte Grant Cru Pinot Noir Vintage 2008, the fine lace Veuve Clicquot Vintage Rosé 2008 and the shimmering velvet of Pol Roget Vintage 2009.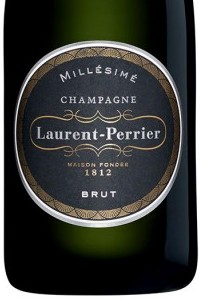 Laurent Perrier - Brut Millésimé 2007
Only the years deemed worthy become a Laurent Perrier Millésimé, which must distinctly express the specific character of a harvest while maintaining the Maison's style. The blend has Chardonnay from the Côte des Blancs (Chouilly, Cramant, Oger and Le Mesnil-sur-Oger) and Pinot Noir from Montagne de Reims (Verzy, Verzenay, Mailly, Louvois and Bouzy) in equal measure and after sitting over seven years on the lees it is disgorged with a dosage of 8g/l. The wine has a luminous straw-yellow color and a very fine effervescence with notes of Provençal flowers, fresh pineapple, plums and almond paste with a light sensation of tangerine. The delicate mouthfeel has the freshness of white peach and a harmonious and airy progression, soft yet tinged by an impalpable tension. A long chiffon dress that flows in the wind.
92/100
€ 75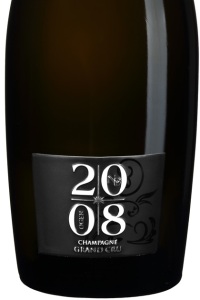 Champagne de la Renaissance - La Dame de la Renaissance 2008
A history rich in energy, with Champagne production beginning in 1974, when Nelly Dohndt decided to make a life change. La Dame de la Renaissance is a declaration of a love of life: 100% Chardonnay from Grand Cru parcels in Oger with the wine sitting on the lees for at least 48 months to then age for six months after being disgorged. The attack of the aroma is whispered and stratified between notes of elder, linden, Melissa, orange blossom and crispy apple with nuances of apricot-filled brioche. The mouthfeel is both fresh and intense, linear and elegant as a satin sheet hung out in the morning sun.
90/100
€ 45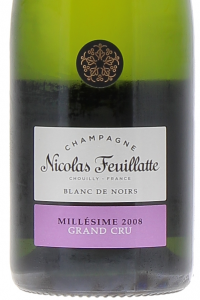 Nicolas Feuillatte - Grand Cru Pinot Noir Vintage 2008
The brand of the Centre Vinicole cooperative, Champagne Nicolas Feuillatte is a surprising project, a super cooperative that brings together the largest number of winegrowers in Champagne belonging to 82 local cooperatives for a total of 5,000 suppliers accounting for 2,250 hectares of vineyards. A blend of the sharp and taut Pinot Noir of Montagne de Reims with its northern exposure (Verzy and Verzenay) with the structured bolder one of the south (Bouzy and Ambonnay) and Aÿ. This is both a brilliant and intense vintage with notes of white cherry, apricot and candied ginger, marjoram, fresh figs and coated peanuts on a barley background. The mouthfeel is energetic, thick and sumptuous like a vintage damask cloth.
91/100
€ 55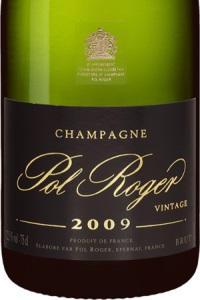 Pol Roger - Vintage 2009
Vintage Pol Roget once again proves itself to be among the best for its price/happiness ratio along with Roederer. A blend of 60% Pinot Noir and 40% Chardonnay from 20 Grands and Premier Cru villages in Montagne de Reims and Côte des Blancs. The grapes from each village are vinified separately according the Maison's style in temperature-controlled stainless steel vats with malolactic fermentation. The wine has a bright golden color with a vivacious and elegant bouquet of peach pulp, fragrant golden delicious apple, medlar and lemons cookies. The suffused mouthfeel has an extremely delicate persistence with fruit nuances balanced by those of fresh hazelnut and verbena while the creamy persistence is like shimmering velvet that reveals its nuances over time.
94/100
€ 70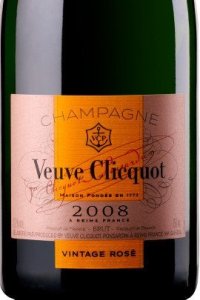 Veuve Cliquot Vintage Rosé 2008
A blend of 61% Pinot Noir, of which 14% was red wine from the village of Bouzy, 34% Chardonnay and 5% Pinot Meunier. After sitting on the lees for over six years, the wine was given a dosage of 8g/l. Vintage 2008 is the Manifesto of Dominique Demarille, who that year became Chef de Caves at Maison Clicquot. In the glass the antique pink color is enhanced by copper hues while the intense nose has great finesse. The bouquet plays on notes between red currant and pomegranate with the freshness of tangerine and blood orange and a nuance of rooibos tea. The vibrant mouthfeel is still very young (even two years after being disgorged) and has spice and marine sensations, nuances of brioche and a chalky and saline tension, an indication that this vintage will offer great satisfaction to those who can forget they have it in their cellar… perhaps for as long as for that 1947.
94/100
€ 80
Related Products
Product
Producer
Date of publication
Author
Read
Brut Millésimé 2007
Champagne
Laurent Perrier
01/25/19
Chiara Giovoni
Only the years deemed worthy become a Laurent Perrier Millésimé, which must distinctly express the specific character of a harvest while maintaining the Maison's style. The blend...
Leggi tutto
La Dame de la Renaissance 2008
Champagne
Champagne de la Renaissance
01/25/19
Chiara Giovoni
A history rich in energy, with Champagne production beginning in 1974, when Nelly Dohndt decided to make a life change. La Dame de la Renaissance is a declaration of a love of life: 100% Chardonnay...
Leggi tutto
Grand Cru Pinot Noir Vintage 2008
Champagne
Nicolas Feuillatte
01/25/19
Chiara Giovoni
The brand of the Centre Vinicole cooperative, Champagne Nicolas Feuillatte is a surprising project, a super cooperative that brings together the largest number of winegrowers in Champagne belonging...
Leggi tutto
Vintage 2009
Champagne
Pol Roger
01/25/19
Chiara Giovoni
Vintage Pol Roget once again proves itself to be among the best for its price/happiness ratio along with Roederer. A blend of 60% Pinot Noir and 40% Chardonnay from 20 Grands and Premier Cru villages...
Leggi tutto
Vintage Rosé 2008
Champagne
Veuve Clicquot
03/30/18
Chiara Giovoni
A blend of 61% Pinot Noir, of which 14% was red wine from the village of Bouzy, 34% Chardonnay and 5% Pinot Meunier. After sitting on the lees for over six years, the wine was given a dosage of 8g/l....
Leggi tutto
Laurent Perrier

02/16/12
Redazione

Champagne de la Renaissance

01/25/19
Redazione

Pol Roger

12/31/11
Redazione

Nicolas Feuillatte

11/02/17
Redazione

Veuve Clicquot

04/05/16
Redazione