The return of the "biting" Erbamat grape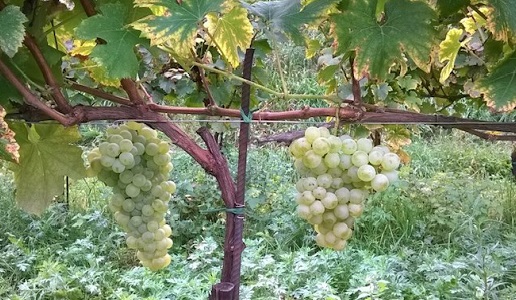 Erbamat is an old Franciacorta varietal has been at the center of a targeted study for years and in 2017 was officially allowed to be used in making Franciacorta. A tasting of the base wines brings out its distinct acidity which is very useful in hot years.
Years of experimentation, micro-vinification and studies have led to the Erbamat varietal to be included among the grapes used to make Franciacorta. The project was explained to us by Roberto Palladin, the owner of Castello Bonomi, one of the five estates that have decided to work with this grape in collaboration with University of Milan.
The Paladin group began some 30 years ago with Bosco del Merlo in the region of Veneto. The desire to add traditional method sparkling wine to its production, however, brought it to Franciacorta. It was here that Roberto Paladin fell in love with the Castello Bonomi, an estate near Monte Orfano that has a particular microclimate thanks to being protected by the mountain that allows it to be warmer and drier than other areas of Franciacorta while the soil is rich in chalk and minerals. He began to produce Franciacorta here and experimented from the start.
The addition of a "new" varietal among the established grapes permitted for Franciacorta production undoubtedly represents an important event and is the result of a need to preserve and enhance territorial identity and the area's biodiversity.
The Erbamat project is headed by University of Milan Professor Leonardo Valenti who told us that it stemmed from the need to experiment with other local varietals to ascertain which could be used to make sparkling wine with positive results. While Pinot Noir and Chardonnay remain the principle grapes used in making traditional method bubby, he said, adding something distinctly indigenous could contribute to better representing the territory and enhance a wine's personality.
The study began in 2010 and focused on several different local and rarely used varietals. After experimenting with them to make wine, however, the only one to offer interesting prospects was Erbamat. The name translates "crazy grass" and, living up to its name, it is a difficult varietal with a distinct acidity and tight bunches that have difficulty ripening and thus risk rotting. On the positive side, it has a much different ripening timetable compared to Pinot Noir and Chardonnay. At a time when climate change has further reduced the harvest period – with grapes needing to be picked during a 15-20-day window – Erbamat has the advantage of being a late-harvest grape that is picked around the end of September.
Castello Bonomi, along with Barone Pizzini, Ronco Calino, Berlucchi and Ferghettina, is among the estates participating in this project to bring back the Erbamat varietal by grafting it to areas of their vineyards, which were thus reclassified from grapes for Franciacorta to those for table time, a step necessary to embark on experimentation.
The first base wines have a distinct malic acidity, low ph and a biting and vertical mouthfeel. The wine is thus more suited to be part of a blend, rather than made as a single-grape wine, to best take advantage of its characteristics and to add, with its malic acidity, what the blend lacks in hot years, which are more frequent with climate change. Since 2017, regulations for Franciacorta production allow for the wine to have of up to 10% Erbamat.
At present, there are only a few bottles with Erbamat in the blend and it remains to be seen how many estates will decide to use this old "biting" varietal, as defined in 1564 by Agostino Gallo in his treatise on agriculture, to give their Franciacorta a further territorial trait.