Dosage: Zéro, the latest creation of Bruno Paillard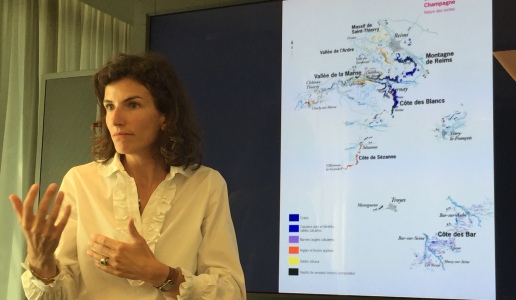 A no-dosage Champagne with a significant amount of reserve wines and generous percentage of Meunier distinguish this meaty bubbly.
It is no secret that Monsieur Bruno Paillard has always believed in the importance of very low dosages as demonstrated by opting for the extra-brut dosages for all his Champagnes. His fixation on producing a pas dosé Champagne had up until recently come up against the existence on the market of brut nature wines that were very aggressive and edgy, a hardness that was in contrast with the idea of harmony that Maison Paillard has always sought by maturing its wines long on the lees. What finally convinced Monsieur Paillard and his daughter Alice to take the leap involved not producing a cuvée de prestige N.P.U. from the 2000 harvest.
The Paillard style has always been defined by a substantial balance between a quest for purity and respect for the character of the ingredient wines. Bruno Paillard's dreams of producing a zero dosage (D:Z) Champagne were thwarted by experiments in the early 1980s that were perhaps more like provocations and resulted in bubblies that were too aggressive. This project was put aside until it was decided to include as vins de reserve in his D:Z project the base wines for N.P.U. 2000. This allowed for a dream to come true of a Champagne that was as true as possible to the spirit of the Champagne terroir, which is characterized by a cool climate and chalky soil that give the grapes an expressive, elegant and austere purity, traits that sugar dosages tend to smother.
During the Milan press presentation of the cuvée Dosage: Zero, Alice Paillard not only explained the genesis of her family's new cuvée but she also offered a tasting of some of the base wines of Meunier, Pinot Noir and Chardonnay to illustrate the nuances they contributed to the blend. The Meunier from Vallée de la Marne, in Festigny, had a floral and fruity profile while that from Montagne de Reims, Chigny-les-Roses, had notes of tangerine and mountain hay. TheChardonnay from Le Mesnil, vinified steel, was taut and crispy with notes of grapefruit and lime, while he Chardonnay from Verzenay, vinified in wood, had rich notes of apple and chestnut honey.
Alice underscored how for 12 years her father had worked on the blends focusing not only on the combination of the vintage wines and reserve ones but also tasting the wines while they were maturing on the lees or aging in the bottle. This led to the decision to enhance the complexity of the blend in order to counterbalance the common perception that "zero dosage" bubbly was almost brutally "sharp as a razor". It also explains why the zero dosage bubbly has a significant amount of reserve wines of different origins – some of which have been perpetually stored since 1985 – and conserved in the cellar in stainless steel, wood and bottles. These reserve wines account for over 50% of the blend. Among these were the ones made from Grand Cru grapes initially for N.P.U. 2000, which Bruno Paillard decided to disgorge and add into the blend to give his D:Z a totally new architecture for the palate.
Dosage: Zéro
Thanks to its natural generosity, Meunier constitutes over half of the blend in this cuvée while the rest is composed of equal amounts of Pinot Noir and Chardonnay for a total of over 30 different cru. However, it is time that is undoubtedly the key element that determines the aromatic completeness with the wine sitting on the lees for four years and then aging in the bottle for another six months.
Dosage: Zéro initially has a delicate bouquet with notes of elder flower, star anise and spring flowers along with those of golden delicious apple that then open to a generous scent of almond and apricot pastry with bracing hints of citrus. In a blind tasting, the mouthfeel seems so harmonious that the lack of any dosage is unnoticeable while the texture is meaty with sensations of peach and orange marmalade. The progression is creamy and brilliant and the lack of any bitterness in the saline nuances is surprising, wrapped in the reassuring softness of a honey brioche.
93/100
€ 48
Related Products