Bruno Paillard and N.P.U. 2004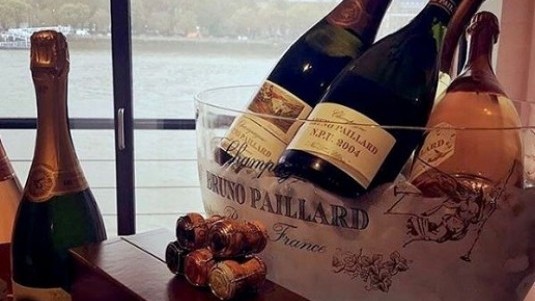 Vintage 2004 has a balance that the previous years, while products of unique harvests, did not express with such harmony.
The Champagne from Maison Bruno Paillard is distinguished by a precise style and this is decidedly a unique achievement for a producer that does not have behind it a family tradition dating back many generations but only began to create its own cuvée less than 40 years ago. Today it is important to link the name Bruno Paillard with that of his daughter Alice, who has always been involved in his winemaking projects, which along with Champagne extends to Provence and Château des Sarrins. She has also increasingly been assuming the role as the ambassador of the "Paillard vision", a philosophy the DNA of which has captured the attention of many wine lovers and, in particular, those connoisseur consumers who appreciate naked wines, those where purity and tension dominate and are the cornerstone of the austere finesse that distinguish their full line of wines.
N.P.U. is the cuvée that exalts the Paillard style and Alice has emphasized this in great depth, explaining how precise decisions involved in making wine from each parcel in their 34 hectares of vineyards, 12 of which are classified Grand Cru, are at the center of the creation of each of the Maison's Champagnes. N.P.U. stands for "nec plus ultra" and it is the exalted representation of the year it came from. It is a wine in which the equal percentages of Pinot Noir and Chardonnay, from only Grand Cru vineyards, is matured in used barriques for 10 months and after blending it sat on the lees for 12 years before being disgorged with an extra brut dosage of 3g/l to create a cuvée that strives to be the pinnacle of style.
According to Alice Paillard, 2004 was a tranquil and harmonious year during which all phases of production took place without problems including the cool and late harvest that began on September 27 for the Chardonnay and ended three weeks later for the Pinot Noir. In July 2005, after maturing ten months in 26 barriques, the wines were blended and transferred to 7,114 bottles and 310 magnums where they sat until being disgorged in September 2017. The champagne then remained in the cellar to age for another two years. The fact the winemaking procedures always remain the same, Alice Paillard explained, allows the exact impact, nature of the year to come out and the seventh vintage of N.P.U. - after those of 1990, 1995, 1996, 1999, 2002 and 2003 – has proved to be an authentic turning point for this cuvée de prestige. Vintage 2004, in fact, has a balance that the previous editions, while products of unique harvests, did not express with such harmony, decidedly making this an extraordinary Champagne.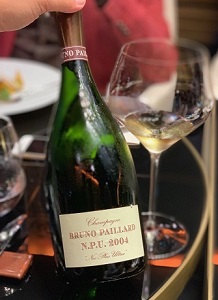 Champagne Bruno Paillard N.P.U. 2004
96/100 – € 200
An equal blend of Pinot Noir and Chardonnay from the Grand Cru villages of Oger, Le Mesnil sur Oger, Chouilly, Verzenay, Bouzy and Mailly selected to donate luminosity to the blend. After maturing for 10 months in oak barriques (which are at least three years old) and sitting on the lees in the bottle for 12 years, the wine was disgorged with a dosage of 3g/l, which is the ideal dosage after aging long.
The Champagne has a bright, straw-yellow color with golden reflections and a fine and creamy effervescence. The bouquet opens with notes of tangerine and bergamot, grilled pineapple and acacia honey on a background of white flowers to create an enticing cloud of finesse. The aroma then evolves on notes of red currant, rhubarb and orange peel with hints of buttery pastry. The mouthfeel is lively and nippy with an iodine salinity at the center of the palate alternating with candied citrus sensations and deeper notes of gingerbread and underbrush for a fresh and taut finish, almost pointed by the vinous traits of N.P.U. but with a distinct and winning balance.
Related Products