Berlucchi '61 Blanc de Blancs and 20 years of evolution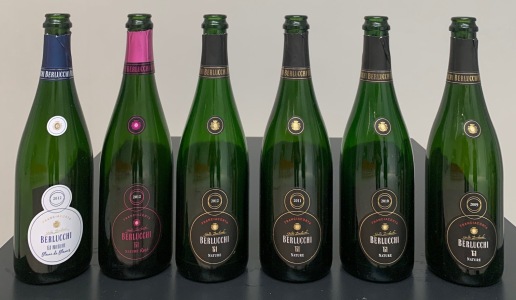 The presentation of the latest wine from Berlucchi offered an occasion to taste the '61 Nature line including the Rosé 2012 and '61 Nature 2012, 2011, 2010 and 2009.
The presence of Arturo Ziliani at the presentation of the latest wine in the Berlucchi '61 Nature line offered an occasion to look back over the past 20 years of this leading Franciacorta producer that, thanks to Franco Ziliani and Guido Berlucchi, created the first "Italian Champagne from Franciacorta", as it was called at the time. It origin dates to 1961 and that year gave the name to a line of wines created for restaurants several years ago and now includes a Blanc de Blancs from the 2012 harvest.
Arturo Ziliani recalled how he began as a technician and little by little, working with his father Franco and siblings Cristina and Paolo, built what is today a winery that produces 4.2 million bottles a year and manages 500 hectares of vineyards, 85 of which they own. The reason he was only looking back over the past 20 years is because it was in 1999 that the family decided to replace all the vines planted in the 1960s. It was a major investment, which included renovating the winery, but the vineyard is where a wine is formed, including this latest creation '61 Nature Blanc de Blancs. Its DNA includes the Arzelle vineyard, which is next to the estate's headquarters, a single, 17-hectare parcel with a density of 10,000 vines hectare and its name is the Brescia dialect word for a field burned by the sun. Here the Chardonnay grapes ripen more than in surrounding vineyards, making it ideal to make their Satèn Palazzo Lana, thanks to the high initial alcohol potential and softer acidity.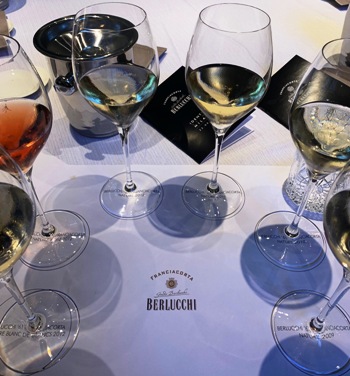 These characteristics also allow for the Chardonnay to be used to make a no-dosage sparkling wine, something that Arturo Ziliani sees as the future not only for Berlucchi but all of Franciacorta. The climatic reality offered by the terroir, enhanced by modern winemaking techniques, will allow Franciacorta to distinguish itself as the first area in the world where the Traditional Method can be used without the need for malolactic fermentation nor any dosage. Of course, in order to forego adding any dosage, the grapes must be perfect and everything concerning the vineyard will need to be organic, not out of an ideological choice but rather as a natural evolution of winegrowing, if one want to preserve the land for future generations.
With its '61 Nature line, which began in 2009, Berlucchi reinforced its rapport with restaurants by setting aside a small part of its production to meet the needs of leading eateries. Arturo Ziliani stressed howthe method of pressing is fundamental for creating these products. Today Berlucchi uses eight Coquard presses in order to accelerate processing the volume of the grapes from the harvest while respecting the four hours necessary for soft pressing to obtain a must without any interference of the skins, seeds and stems. The fractionation of the must is very important for Berlucchi and the grapes are pressed in four stages: the first soft pressing produces 30% free-run juice A and the second 20% free-run juice B, before a second pressing takes place in to stages with the juice from the last never used. Nature is made only using free-run juice and 100kg of grapes are needed to produce 30 liters of juice.
The vertical teasing offered by Arturo Ziliani – '61 Nature Rosé 2012 and '61 Nature 2012, 2011, 2010 and 2009 – undoubtedly represented an important reference to comprehend what the future holds for Berlucchi, which accounts for around one quarter of the Franciacorta's total production.
'61 Nature Blanc de Blancs 2012
93/100 – € 40
Chardonnay from a single vineyard (Arzelle) fermented in stainless steel with partial maturation in barriques for some six months. After sitting on the lees for at least 60 months (disgorgement in 2018), no dosage was added and the wine aged in the bottle for another six months. A slightly golden, straw-yellow color and a subtle effervescence. The bouquet has scents of elder flower and frangipane, fresh almond and gooseberry and with breathing emerge interesting and fresh notes of vetiver and lemon as well as nuances of sugared-coated almond and barley cookie. The mouthfeel has a sharp intensity of lime and fresh ginger with a nice creaminess in the grapefruit finish that will appeal to those who love precision but do not disdain a certain softness.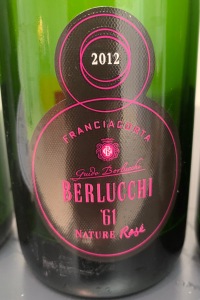 '61 Nature Rosé 2012
91/100 – € 40
An authentic Blanc de Noir made from only Pinot Noir that maintains its complexity, freshness and fruitiness in a wine that Arturo Ziliani believes in greatly. Some of the grapes are allowed to macerate on the skins to give the wine its color but are pressed using a system that does not crush the skins too much. The must is then blended equally with Pinot Noir fermented off the skins. A clear, pink color and fine effervescence with aromas of medlar, pomegranate and hibiscus tea. The mouthfeel is structured and full-bodied with flavors of black tea and pulpy black cherry with nuances of medicinal herbs.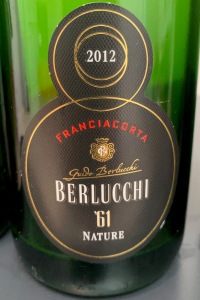 '61 Nature 2012
93/100 – € 35
A blend of 70% Chardonnay and 30% Pinot Noir partially matured for six months in barriques and bottled in June 2013 to then sit in the lees for 66 months (disgorged in December 2018) with 50,000 bottles produced. An intense straw color with golden hues and a subtle effervescence. The aromas are of linden flower, fresh grapefruit and crispy stark apple, tangerines, sage and marjoram. The attack of the mouthfeel has an interesting complexity with notes of hazelnut and candied citrus fruit and it becomes bold and rich towards the finish while maintaining its tension, fragrance and character.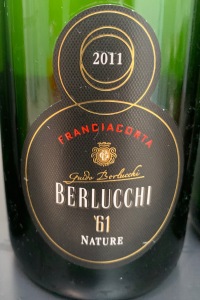 '61 Nature 2011
91/100 – € 35
A blend of 70% Chardonnay and 30% Pinot Noir partially matured for six months in barriques, bottled in June 2012 and disgorged in November 2018. A straw color with golden reflections and fine effervescence. The bouquet has wrapping notes of golden delicious apple and ripe pineapple, a spicy streak of white pepper and fresh citronella. The dynamic mouthfeel has a slightly contracted finish of citrus peel and tamarind.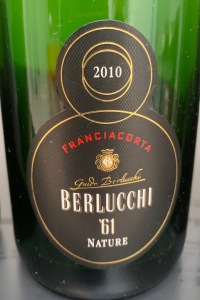 '61 Nature 2010
94/100 – € 35
A blend of 80% Chardonnay and 20% Pinot Noir partially matured for six months in barriques. It was bottled in May 2011 and disgorged in June 2017 after 61 months on the lees to then age in the bottle for two years to enhance the beauty this Franciacorta can give. A straw-yellow color with luminous reflections and a fine effervescence. The aroma is fascinating and intense from the start with deep and wrapping notes of Mirabella flower, ripe white peach, golden delicious apple, apricot and candied citron. The mouthfeel is structured and elegant, its tapered muscles embrace you and lifts you off your feet in a waltz of freshness and vigor with a finish distinguished by an iodine salinity.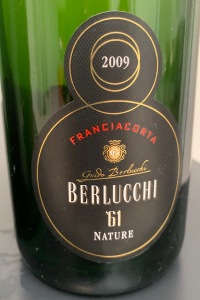 '61 Nature 2009
90/100 – € 35
A blend of 80% Chardonnay and 20% Pinot Noir partially matured for six months in barriques and disgorged in June 2016. A golden-straw color and fine effervescence. An evolved bouquet opens with notes of hazelnut pralines, lemon custard and buttery pastry. The mouthfeel has a nice freshness with sensations of medicinal herbs and a structure distinguished by a certain grapiness and light nuances of grapefruit while the aftertaste has a saline hint to it.
Related Products