Vignetti di Ettore, a classic and modern style at the same time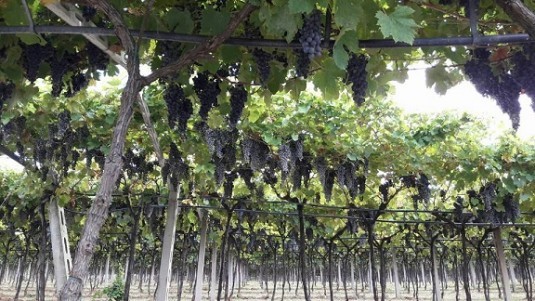 We discovered this estate, situated in the heart of Valpolicella, quite by chance. It was during a presentation by Vino&Design, the well-known Bologna distributor, of its products and their relative producers staged at Palazzo Brancaccio in Rome. This was an excellent occasion to taste some good wines from some excellent estates and was attended by many young wine lovers. My tactic was the usual one: first taste what you don't know.
This is what brought me to Vignetti di Ettore. After being in charge of the Negrar wine cooperative for years, "Nonno Ettore" (Grandpa Ettore) now works his own estate together with his grandson Gabriele Righetti, who just recently earned his degree from Italy's best school for enology San Michele all'Adige. They have a dozen or so hectares of vineyards and produce around 50,000 bottles a year of wine typical to Valpolicella.
Gabriele takes care of the Valpolicella Ripasso and the Amarone, while Ettore is responsible for the vintage Valpolicella and Recioto. All the wines have a style distinguished by their cleanliness and elegance. The wine growing method is classic with the vines are trained on the traditional pergola Veronese and are in part terraced, using the classic marogne dry walls. The raisination of the grapes takes around 100 days in an area with windows and fans with a tight control on humidity levels. Fermentation occurs in temperature-controlled stainless steel vats while the wine is aged in tonnneau and 25-hectoliter barrels.
Related Products
Product
Producer
Date of publication
Author
Read
Valpolicella Classico 2015
Valpolicella Classico
Vigneti di Ettore
02/01/17
Riccardo Viscardi
A blend of 35% Corvina, 30% Corvinone, 25% Rondinella, 5% Dindarella and 5% Molinara that ages in stainless steel. The wine has a bright, slightly pale ruby color and an aroma that is fresh and light...
Leggi tutto
Valpolicella Ripasso Classico Superiore 2014
Valpolicella Ripasso Classico Superiore
Vigneti di Ettore
02/01/17
Riccardo Viscardi
A blend of 45% Corvina, 30% Corvinone, 15% Rondinella and 10% Croatina that ages in tonneau barrels for 18 months. The color is an intense and bright ruby and the rich aroma has notes of red fruit...
Leggi tutto
Amarone della Valpolicella Classico 2012
Amarone della Valpolicella Classico
Vigneti di Ettore
02/01/17
Riccardo Viscardi
A blend of 50% Corvina, 25% Corvinone, 10% Croatina, 10% Rondinella and 5% Oseleta that ages in 25-hectoliter oak barrels for around 30 months. The wine has an intense, compact and fairly bright ruby...
Leggi tutto