The mountain wines of Masseria Frattasi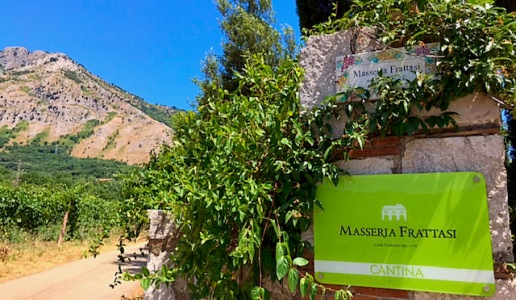 The phylloxera plague did not affect the Falanghina in a small area between Montesarchio and Bonea, at the feet of Monte Taburno. This zone is thus a unique enclave where it has been cultivated by local growers who still today care for and protect their ungrafted vines. The area's vines were able to resist the phylloxera plague thanks to its soil of volcanic origin.
Founded in 1779, Masseria Frattasi is situated in Montesarchio – where the winery is located – and has one of the best vineyards with over 100-year-old vines, an authentic monument. The Clemente family cultivate their grapes at altitudes from 380m to 900m above sea level in 30 hectares of vineyards, which are spread out in small and complex terraces surrounded by forests and ferns. The area is very suited for winegrowing and benefits from cool breezes from the Apennine Mountains and those of the Tyrrhenian Sea that create a mild climate, ideal for the grapes to ripen. The typically mountain winegrowing is enriched by an ancient system of cultivation called "tennecchia", evidence of a tradition that dates back to Etruscan times.
Masseria Frattasi is the custodian of the micro-wine district of Montesarchio and Bonea where they heroically cultivate Falanghina and Aglianico, Coda di Volpe, Greco and Fiano as well as the international varietals Cabernet Sauvignon and Chardonnay. The mountains allow these varieties to fulfill themselves and the sharp variations in altitude and temperature result in fresh, fine and intense wines.
The wines tasted here are a combination of the preservation of the old vines and new cultivation techniques. The vines grow in an arduous territory of rocks and gravel along with ample amounts of clay and chalk.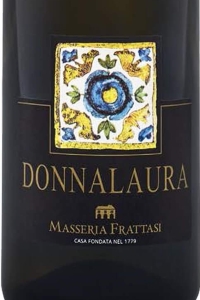 Donnalaura Falanghina del Taburno Doc 2018
93/100 - € 16,00
Made from Falanghina grapes cultivated at altitudes between 380 and 500m above sea level. Part of the wine matures in French-oak barriques for six months. The wine has a bright, straw-yellow color and a broad and ample aroma of apricot, citron, mint and mastic. The cutting and vertical mouthfeel has distinct sapid notes and is long with a very pleasing drinkability.
Bottles produced: 4,500.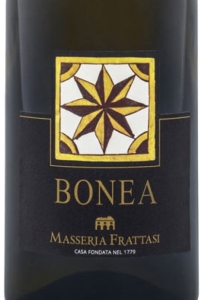 Bonea Falanghina del Taburno Doc 2018
92/100 - € 12,00 (QP)
Made from Falanghina cultivated in Bonea that is fermented and matured in stainless steel. A luminous, straw-yellow color with a bouquet of pineapple, grapefruit and wild flowers. The mouthfeel is sharp and bold, saline and slightly mentholated, dynamic and persistent.
Bottles produced: 6,500.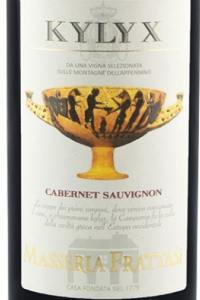 Kylyx Cabernet Sauvignon 2015
91/100 - € 120,00
Made from Cabernet Sauvignon cultivated at over 500m above sea level and matured for 18 months in barriques. The wine has a red-garnet color and aromas of black cherry, blueberry, rhubarb and eucalyptus with hints of boxwood and asparagus. The mouthfeel is fresh yet soft with gentle tannins and a long finish of spice,
Bottles produced: 1,500.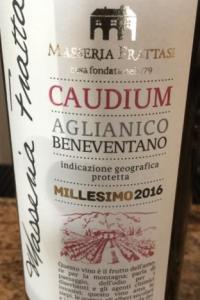 Caudium Aglianico Beneventano 2016
90/100 - € 13,00
Made from Aglianico grapes and matured in used barriques for six months. The wine has a ruby color that leans towards garnet and aromas of black cherry, blackberry and violet with hints of underbrush. The harmonious mouthfeel has young tannins and is sapid, fresh and pleasing.
Bottles produced: 10,000.
Related Products
Product
Producer
Date of publication
Author
Read
Donnalaura 2018
Taburno
Masseria Frattasi
07/23/19
Antonella Amodio
Made from Falanghina grapes cultivated at altitudes between 380 and 500m above sea level. Part of the wine matures in French-oak barriques for six months. The wine has a bright, straw-yellow color...
Leggi tutto
Bonea 2018
Taburno
Masseria Frattasi
07/23/19
Antonella Amodio
Made from Falanghina cultivated in Bonea that is fermented and matured in stainless steel. A luminous, straw-yellow color with a bouquet of pineapple, grapefruit and wild flowers. The mouthfeel is...
Leggi tutto
Kylyx Cabernet Sauvignon 2015
Benevento
Masseria Frattasi
07/23/19
Antonella Amodio
Made from Cabernet Sauvignon cultivated at over 500m above sea level and matured for 18 months in barriques. The wine has a red-garnet color and aromas of black cherry, blueberry, rhubarb and...
Leggi tutto
Caudium 2016
_
Masseria Frattasi
07/23/19
Antonella Amodio
Made from Aglianico grapes and matured in used barriques for six months. The wine has a ruby color that leans towards garnet and aromas of black cherry, blackberry and violet with hints of...
Leggi tutto
Masseria Frattasi

08/26/13
Redazione