Secondo Marco: An 'evangelical' character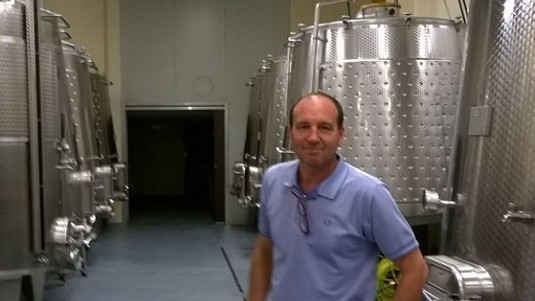 When you arrive at the low, white mastaba-style winery with its suggestively hand-written sign stating "Secondo Marco" (According to Mark), it becomes clear that the owner has an unusual personality. And in cases likes these you know there is no middle ground, everything will be either very good or very bad. Experience tells you that many great producers have a distinct personalities and what they have in common is being involved with wine and farming with a passion that goes beyond reason and/or accompanies it with a vision that can produce great sensations.
We were met at the entrance to the winery by Marco Speri, an important surname in the world of Amarone. He welcomes us with a smile and after a few formalities explains to us his winemaking 'creed', his vision of Valpolicella. And at this point it is clear that the evangelical "According to Mark" reference was not by chance.
The winery is in the heart of Valpolicella Classico, on via Campolongo in Fiumane. Marco's reasoning is simple yet precise. Amarone, as tradition dictates, is a dry wine that was created by chance when a batch of the area's then more prestigious and expensive wine, Recioto, was 'forgotten' and fermented without sugar. Thus aside from styles and the time the grapes are allowed to raisinate, the final product must be a wine with little sugar residue.
Everything is done according to tradition in the winery even if the technology is modern. We did not have time to visit where the grapes raisinate but in the winery we saw the stainless steel, truncated cone vats, a handy and typical Tuscan solution. We also saw many Slovenian oak barrels ranging in size between 25 and 40 hectoliters as well as some barriques and tonneau barrels. There was also a lot of cement for storing the wines. The fermentation-maceration period is decidedly long, around 40 days, with the wine being 'moved' as little as possible.
Tradition reigns in the vineyard but is not written in stone and the pergola veronese training system has been slightly modified to include a high Y configuration to allow for a better air flow around the bunches and leaf shading. Another characteristic is using a small percentage of Molinara in the bend to give the wine the acidity it needs. This is important for Marco to give drinkability and freshness to his wines, first of all for the Amarone. In fact, the estate's style seeks finesse and elegance more than boldness, an original choice for the area and distinctly in contrast to recent Amarone trends.
The result is a very unusual Amarone, one that recalls some of the great and classic dry ones yet without aggressive tannins which in this case are replaced by an intriguing acidity.
The estate was founded in 2008 which was also its first vintage, given that the vineyards already existed.
Related Products