Paolo Lucchetti and the Birbaccio' of Morro d'Alba
From a winery specialized in the production of Lacrima di Morro d'Alba, this year also a surprising Verdicchio.
This article is available in Italian only.
A Morro d'Alba, sulle colline sopra Senigallia, si parla jesino, e quindi i bravi ragazzi vengono chiamati "Birbaccio'", ragazzotti in italiano, con accezione chiaramente vezzeggiativa. Anche l'anno scorso avevamo parlato dell'azienda della famiglia Lucchetti, nella quale quel Birbaccio' di Paolo Lucchetti ha ormai ruolo di protagonista.
L'azienda è specializzata, come è norma da queste parti, nel Lacrima di Morro d'Alba, scuro e profumatissimo rosso autoctono dalle due facce: una fragrante e giovanile, e un'altra capace di migliorare nel tempo (intendiamo decenni) e sfoggiare una personalità non comune di tratti balsamici e rinfrescanti.
I Lacrima di quest'anno confermano il livello aziendale, sia la Fiore, destinata ad essere consumata adesso, che il Guardengo, che darà il meglio fra qualche anno. Ma il vino che quest'anno ci ha colpito maggiormente è il Verdicchio Birbaccio': sarà che la 2019 sembra fatta apposta per esaltare i Verdicchio di pronta beva, ma un Classico (non Superiore) così ci è capitato di assaggiarlo raramente.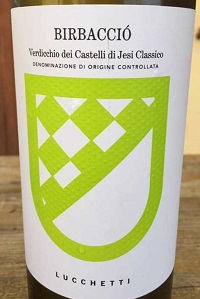 Verdicchio dei Castelli di Jesi Classico Birbaccio' 2019
90/100 - € 7
Da uve verdicchio. Affinamento in acciaio. Paglierino verdognolo scarico, vitale, aperto e ampio al profumo, con mandorla dolce e pesca bianca nette, un tocco di anice che torna al gusto. Il palato è squisito, corposo, fruttato, pieno e snello. Manca solo il cambio di marcia, ma in un 'Classico' è più che sufficiente per raggiungere l'eccellenza. Uno dei migliori Castelli di Jesi entry level in assoluto e un vino dal clamoroso rapporto qualità/prezzo.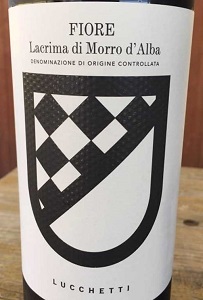 Lacrima di Morro d'Alba Fiore 2019
89/100 - € 8
Da uve lacrima. Affinamento in acciaio. Rubino viola deciso non coprente. Aromatico e fragrante, i profumi alternano al floreale tipico di rosa rossa un tocco di panpepato e una nota fruttata di gelatina di ciliegie. Il palato è di medio peso, su note di viole e pan pepato, finisce lungo, con tannino un po' asciutto. Una versione di Lacrima da bere giovane praticamente impeccabile.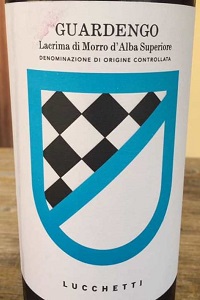 Lacrima di Morro d'Alba Superiore Guardengo 2018
90/100 - € 12
Da uve lacrima proveniente dal vigneto omonimo. Affinamento in cemento vetrificato. Rubino deciso con sfumature viola. Al naso apre speziato, con pepe nero in primo piano, poi liquirizia, grafite e viole. Il palato attacca deciso, il tannino è momentaneamente un po' massiccio, il finale pepato e floreale (viole), con la consueta nota "lucchettiana" di erbe amare. Se c'è un rosso marchigiano che ha bisogno di vetro per dare il meglio di sé, questo è il Lacrima Superiore, e la regola vale anche in questo caso. Lasciatelo affinare almeno un paio d'anni.
Related Products
Product
Producer
Date of publication
Author
Read
Birbaccio' 2019
Verdicchio dei Castelli di Jesi Classico
Mario Lucchetti
10/27/20
Francesco Annibali

Fiore 2019
Lacrima di Morro d'Alba
Mario Lucchetti
10/27/20
Francesco Annibali

Guardengo 2018
Lacrima di Morro d'Alba
Mario Lucchetti
10/27/20
Francesco Annibali

Mario Lucchetti

10/09/19
Redazione