Conti Faina, Domestic International Wines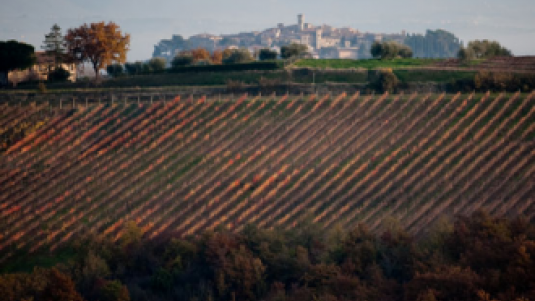 At the end of the 19th century, Count Zeffirino Faina imported to Umbria and Italy winemaking technology and methods from France and helped found the University of Perugia. For many this may be ancient history but not for the family of Sebastiano Faina who today, with his daughter Angelica and his son-in-law Stefano Sanesi, produces wine and olive oil between Fratta Todina, in the province of Perugia, and Collelungo (where the aging cellar is located in the village's medieval castle), in the province of Terni.
When you meet Stefano and Angelica you can still see that pride which contributed to the 'making' of Italy in 1861. The Faina family, in fact, played an active role in Italy's unification and today brings top quality products to the country's tables. A visit to the vineyards makes it clear that here the focus is on 'international' grapes and this has resulted in a joint project with the Antinori family (Sala is not far away) to cultivate French Pinot Noir clones at an altitude of 500m. This altitude, together with the exposure and sharp temperature variations, ensures a slow and constant ripening period for this difficult grape and allows it produce positive results. Their 1883, for example, is a 100% Pinot Nero that is an expression of Italy's warm heart and is quite different from the stereotype French ones. In this area there is no lack of sun and the grapes easily achieve their necessary sugar level, the tannins are balanced and having sufficient anthocyanins is never a problem. All this is reiterated in their Maltempo 2011, a classic Bordeaux blend with great structure and ability to age, perfect to pair with wild game. As for the whites, they produce Montione (90% Sauvignon and 10% Pinot Noir) and Macchia della Torre, a blend of Verdicchio and Chardonnay. This latter wine is important because it is the result of a specific study into Verdicchio and, together with the sparkling wine Senatore Zeffirino Brut, is an example of the estate's vocation for research and experimentation.
Related Products