Château Belregard-Figeac, the small domaine of the Pueyo family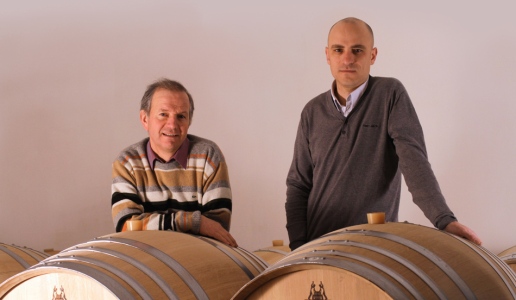 Producing a wine that is as close as possible to fermented grape juice, without any wood sensation, has been a kind of challenge for the Pueyo family at Château Belregard-Figeac, in Saint-Émilion.
Some time ago it was still possible to find bottles of Clos de la Pignonne Earl Vignobles Pueyo, then Mr. Pueyo decided to use the grapes from Clos de la Pignonne, together with those of his other Clos, in the cuvée Belregard-Figeac.
Château Belregard-Figeac is a small wine estate composed of the eight hectares the Pueyo family (Jean-Paul and Christophe) owns plus seven they lease as well as a 1.5-hectare vineyard they buy grapes from, dictating the quality, to make an excellent Sauvignon Blanc-based wine that is bottled as a vin de France (a classification previously called table wine that European Union regulations now simply refer to as "wine" of Italy, of France and so on, ed.note).
This domaine, which does not look at all like a castle, since there are no castles in Bordeaux, not even in the right bank, for geological reasons, is composed of ten parcels or plots each with a precise identity situated between east Libourne, central Libourne and Saint-Emilion.
The ten parcels are: La Grange, La Serre, La Pignonne (the château's old name), Condat, Privat, Figeac, Gueyrosse, Henoque, Favrie and Garderose. Belregarde-Figeac is the blend of the first nine parcels while Garderose grapes are exclusively vinified separately.
Cabernet Sauvignon, Merlot and Cabernet Franc are more or less used equally planted, depending obviously on the harvest. Garderose, on the other hand, has a lot of Merlot with a little Sauvignon Blanc, the wine from which by regulation cannot be considered a Saint Emilion but classifies as a Bordeaux Blanc or a vin de France.
The Pueyo family has been involved in winemaking for three centuries but working their own vineyards is more recent and began less than 30 years ago. They have practiced sustainable agriculture and have been certified organic since 2015, even if for Jean-Paul the "organic" label was a pure formality.
In 2010, Christophe, Jean-Paul's nephew, took his father Jacques' place and brought to the domaine all the wonderful things a new generation of winemakers can bring: research, experimentation and a more modern approach to communication and vision of wine. Experimentation began with the use of 500 and 600-liter barrels, then came the Alsace foudre with 900, 1,000 and up to 2,200-liter ones, while in 2015, after a visit to Italy, to Trento (precisely to Tava Anfore), experiments began using amphorae for fermenting and maturing the wines.
Producing a wine that is as close as possible to fermented grape juice but which at the same time can improve with age, even if it is already good right away, without any strong woody sensation represents a kind of challenge for this estate.
Belregard-Figeac, like many other Saint-Émilion grand cru, exports over 60% of its production, mostly to Brazil, Japan and the United States, with bottles also going to Switzerland and Britain.
Related Products
Product
Producer
Date of publication
Author
Read
La Fleur Garderose 2015

Vignobles Pueyo
02/28/18
Giovanni Curcio
A single-grape Sauvignon Blanc, this has a pale, straw color with an excellent luminosity and light body. The bouquet has a secondary nature with clear and refined post-fermentation notes. There are...
Leggi tutto
Château Belregard-Figeac 2015
Saint-Émilion Grand Cru
Vignobles Pueyo
02/28/18
Giovanni Curcio
Drawn from the barrel, this has a lively and intense ruby color so rich it coats the sides of the glass. The bouquet has intense and slightly ripe notes of red fruit like raspberry or cherry while...
Leggi tutto
Château Belregard-Figeac 2010
Saint-Émilion Grand Cru
Vignobles Pueyo
02/28/18
Giovanni Curcio
For Jean-Paul Pueyo, the vintages before 2015 are not the same thing. They are excellent wines but by maturing in the typical rive droite way they are too similar to neighboring wines. This is a...
Leggi tutto
Château Belregard-Figeac 2006
Saint-Émilion Grand Cru
Vignobles Pueyo
02/28/18
Giovanni Curcio
Aging has added more brick to the color here than the 2010 and the color is lighter. In the aroma the cardamom and notes of pepper, as always with a hint of black truffle, are more distinct and while...
Leggi tutto
Château Belregard-Figeac 2005
Saint-Émilion Grand Cru
Vignobles Pueyo
02/28/18
Giovanni Curcio
Although this is a year older than the previous wine, it seems younger. Its brick color is even and the aroma has well-defined scents from bottle aging and a nice complexity with notes of underbrush,...
Leggi tutto
Vignobles Pueyo

02/28/18
Redazione Grafica