Bisci, a neoclassic in Matelica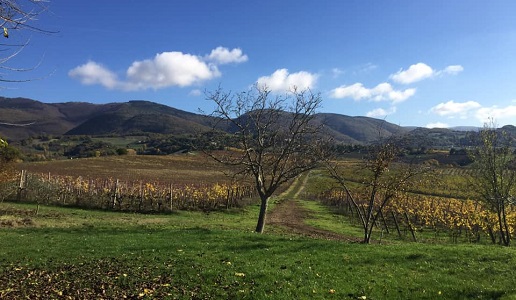 A series of Verdicchio wines among the best of the denomination with an absolute star: the Senex selection.
This article is available in Italian only.
Situata nella parte più settentrionale della valle Camertina, a due passi da Cerreto d'Esi, l'azienda di Mauro Bisci gode di un parco vigneti tra i migliori dell'intera denominazione e di un magnifico panorama. Qui la vite sembra quasi 'aggrapparsi' al monte San Vicino, che separa la valle dal resto della regione ed è il principale responsabile del clima fresco-temperato e dalle importanti escursioni termiche della zona.
L'azienda si avvale della consulenza di un enologo, Aroldo Bellelli, il cui nome forse non dirà molto a tanti appassionati, ma che in molti anni di lavoro un po' in tutta la regione ha dimostrato una mano bianchista saldamente raffinata.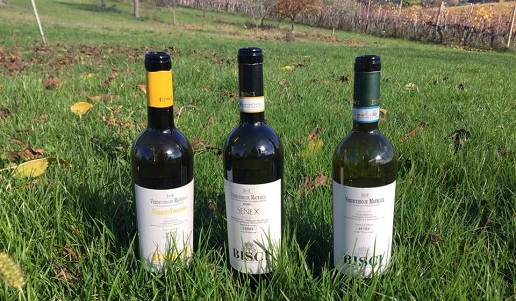 I Matelica di Bisci sono privi di legno e sono frutto della più classica delle vinificazioni in bianco, senza criomacerazioni, e vengono affinati in cemento vetrificato, forse responsabile dello sviluppo particolarmente lento e "graduale" degli aromi nel bicchiere. Il Verdicchio di Matelica nasce dal lievito bayanus, le selezioni Fogliano e Senex da fermentazioni spontanee.
Dopo un periodo di consistenti alti e bassi, negli ultimi 4-5 anni Bisci è tornata a navigare ai vertici del Verdicchio con regolarità, con uno stile neoclassico nel quale l'esecuzione sembra scomparire per lasciar emergere una "spontaneità controllata" rara: non un milligrammo di rusticità, non un milligrammo di artificiosità.
Con un'avvertenza: i Matelica di Bisci sono tanto facili da portare a tavola quanto esigenti in fatto di temperature: non beveteli freddi, ma freschi. E date loro il tempo di assestarsi nel bicchiere: per quel vecchio diesel del Senex, anche mezz'ora.
Verdicchio di Matelica 2019
90/100 - € 11
Da uve verdicchio. Affinamento in cemento vetrificato. Paglierino scarico pieno di luce. Il profumo è di stampo vegetale/speziato, con la tipica nota di cardamomo su un fondo di clorofilla e fiori di tiglio. Palato leggero, saporito, perfettamente in corrispondenza, finale decisamente saporito e persistente. Impeccabile e con molti anni di vita davanti.

Verdicchio di Matelica Vigneto Fogliano 2018
93/100 - € 18
Da uve verdicchio del vigneto Fogliano. Affinamento in cemento vetrificato. Paglierino medio luminoso con riflessi verdi, malto, anice stellato, agrumi, il palato è morbido e graduale, irrorato da una sapidità sotterranea ma saldissima, il finale saporito. Fantastico Matelica.

Verdicchio di Matelica Senex 2015
94/100 - € 38
Dalle migliori uve verdicchio del vigneto Fogliano. Affinamento in cemento vetrificato per 40 mesi. Paglierino dorato vivo. Dopo un'apertura di stampo quasi ossidativo, apre a note di anice stellato, idrocarburi, frutta secca. Corposo e salato al palato, chiude lentamente su note di cardamomo. Bevetelo a 16° e dategli il tempo di assestarsi nel bicchiere (anche mezz'ora). Provatelo su carne bianca. Grandissimo vino.
Related Products
Product
Producer
Date of publication
Author
Read
Verdicchio di Matelica 2019
Verdicchio di Matelica
Bisci
02/11/21
Francesco Annibali

Vigneto Fogliano 2018
Verdicchio di Matelica
Bisci
02/11/21
Francesco Annibali

Senex 2015
Verdicchio di Matelica
Bisci
02/11/21
Francesco Annibali

Bisci

09/12/17
Redazione
Related Articles