Tavignano, at the heart of Verdicchio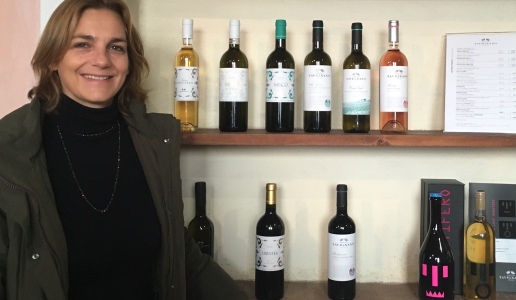 Tenuta di Tavignano is an important estate that stands out in the Cingoli countryside, an area known as the Balcony of the Marche region.
I must confess that I often forget how beautiful the Marche region is but on the bright side every time I go I remain awestruck. It is a region that in some ways recalls Tuscany, a kind of Adriatic counterpart with its scarcely populated hills that have always been cultivated by man, especially when it comes to the vineyards. It also has lovely villages and cities that offer interesting cultural events, like the Lorenzo Lotto exhibition in Macerata, and stellar restaurants, like the legendary Uliassi that just received its third Michelin star, as well as equally tasty traditional ones, like Agra Mater in Colmurano.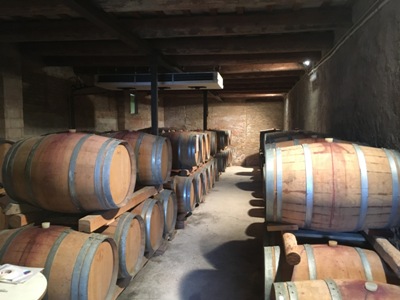 Tenuta di Tavignano is a single, 230-hectare estate, 31 of which are vineyards situated in the town of Cingoli. It sits on a hill that dominates over the valleys of the Esino and Musone Rivers and on one side looks out at Monte San Vicino and on the other the Conero seaside, in the southern part of the Castelli di Jesi appellation, which implies that wine production is mostly Verdicchio. When the farm first went into production, in the 1970s, the Aymerich di Laconi familyfocused more on cultivating wheat, garden vegetables and hay with wine taking center stage only in the 1990s. This coincided with a choice to focus of quality winegrowing that involved replanting the vineyards with a different training method, pruned-spur cordon-trained, higher density and using local grape varieties.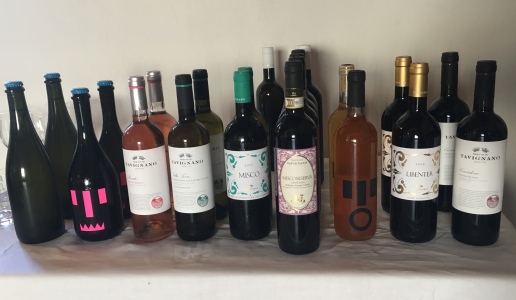 For the past five years, Ondine de la Feld, a French-Milanese, has been involved with production, working alongside Uncle Stefano Aymerich and contributing with a youthful and dynamic style. His arrival coincided with the conversion of the vineyards to organic methods (certified as of last year) and the launching of a new line of wines, Mostri, targeted more for younger consumers also in regard to the packaging.
The "monsters" are three: Il Pestifero, a sparkling white mostly based on Verdicchio, with some Malvasia and Sangiovese, produced using the Ancestral Method. It is a playful and easy to appreciate wine. La Vergine is a Verdicchio that macerates on the skins and has a balanced flavor, while Il Tonto is a slightly rustic Sangiovese with a very youthful flavor.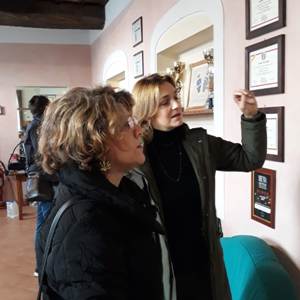 The estate's main wine remains Misco, a Verdicchio dei Castelli di Jesi Classico, which is made as both a Superiore and a Riserva, a wine that interprets the terroir authentically and has proven to age very well. It is made from a single, 4-hectare vineyard that faces the Musone (in Latin Miscus) Valley that has a very low yield, at most 5-6,000kg per hectare.
In June of this year there will be a novelty, another Verdicchio but a sparkling Spumante Metodo Classico one from the 2015 harvest that sat on the lees for 36 months. Preview tastings made an excellent impression with its citrus bouquet of lime and iodine (which recalled oyster) and a full and creamy flavor, a nice acidity and classic almond finish.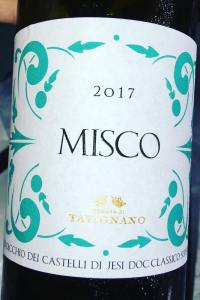 Verdicchio dei Castelli di Jesi Classico Superiore Misco 2017
90/100 - € 12
Made from Verdicchio grapes and matured on the lees for six months in stainless steel vats. The wine has a bright, straw color with light green reflections. The nose has notes of pineapple and grapefruit with hints of hay, while the excellent mouthfeel is dry and flavorful with nice tension and persistence.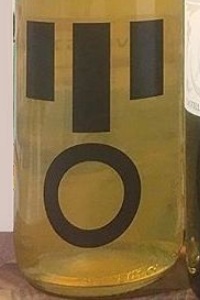 Marche Bianco La Vergine 2015
90/100 - € 9
Made from Verdicchio grapes fermented with indigenous yeasts without temperature controls and with submerged-cap maceration. The full, golden color has light copper, almost orange reflections. The aromas are of ripe fruit, including tropical fruit, and classic almond. The mouthfeel is very dry and acidic, full and slightly tannic with an almond aftertaste.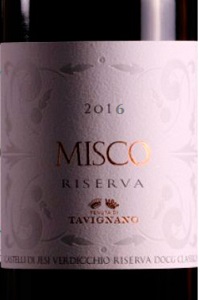 Castelli di Jesi Verdicchio Misco Riserva 2016
93/100 - € 20
Verdicchio grapes with long maturation (some 12 months) on the lees in stainless steel. The wine has a clear, golden color and intense and defined aromas of yellow fruit, even exotic, white pepper, green olives and peppers with a hint of honey immediately counterbalanced by the almond. The mouthfeel is also fruity sweet with a full, deep and elegant flavor and a long, pleasing finish.
Related Products
Related Articles