When Riesling becomes gastronomic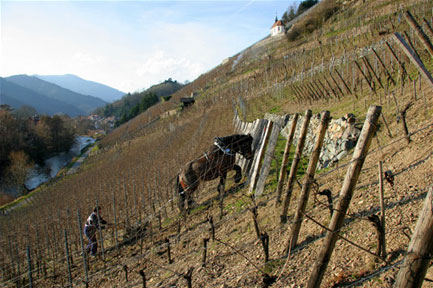 While less intriguing for those who love the wines from the areas around the Moselle and Rhine Rivers, Alsace is considered in France to be one of its best zones for white wines, on the same level as Burgundy. The Rieslings produced here, aside from being among the best in the world, are also more gastronomic that the German ones.
This area rightfully became famous over the past 30 years thanks to American wine critic Robert Parker, who fell in love with the extraordinary Vendanges Tardives (late harvest) wines made here.
Clos Windsbuhl, incomprehensibly not classified as a grand cru, is in Hunawihr, next to the grand cru Rosacker, which is famous for Trimback's Riesling Clos Saint Hune. The hill has a south, southeast exposure and the pitch of the terrain goes from medium to steep. The vineyards are situated at an altitude of around 350m above sea level and grow in a soil that is chalky and rich in clay but not that deep and in some areas rocks can be seen sticking out. In the hands of Zind Humbrecht, one of the world's greatest white winemakers, the grapes from this area create, year after year, one of France's best dry white wines.
Related Products