The 'sweet-green' Impero of Fattoria Mancini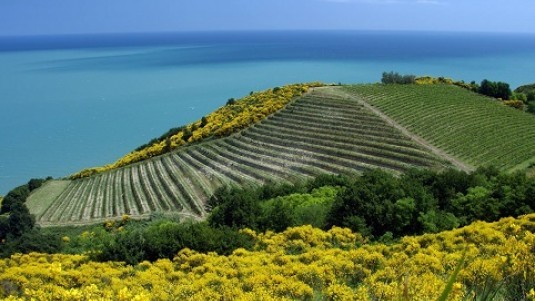 A Pinot Noir made off the skins for a white wine with an international flavor but a Marchigiana imprint: Impero Blanc de Pinot Noir Fattoria Mancini 
At a time when Jesi, Matelica and Pecorino wine have reached the pinnacle of their success, almost contemporarily, it is not easy to speak about the few, great other whites produced in the Marche region. This is not a region that opens easily to innovation and novelties and showed little interest in the explosion in Italy of Chardonnay and Sauvignon Blanc in the 1990s. It is for this reason you can count on the fingers of one hand the number of quality "international" whites produced there.
While we are not sure whether making Pinot Noir off the skins qualifies to be considered an "international" white (we imagine it is), we are convinced that Impero from Fattoria Mancini is one of the region's best wines.
Pinot Noir has been present in the province of Pescara for almost 200 years, introduced during the Napoleonic era, and so the varietal could now almost be considered to be native. The chalky soil where it is cultivated and the cold microclimate on the high cliffs overlooking the Adriatic are considered ideal to cultivate this grape. The result is a white wine that brings together Burgundy traits with a juicy 'sweet-green' Marche acidity.
Mancini 
Titolare : Famiglia Mancini
Strada dei Colli, 35 
61122 Pesaro (PU) 
Tel. +39 0721 51828
Fax +39 0721 390623
info@fattoriamancini.com
www.fattoriamancini.com
Facebook: FattoriaMancini
Anno di Fondazione : 1861
Ettari di Vigneto : 30
Related Products