The black pearl of Lunigiana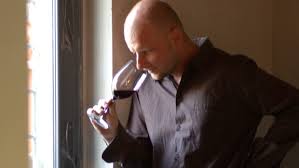 During a dinner with friends I had the pleasure of drinking and discovering a Vermentino Nero from the Terenzuola estate, a small jewel produced from a red grape that is little known compared to the white variety. The grape's origin is not certain but it is now found in Lunigiana in a very restricted area that in the past was cultivated with and produced wines from other varieties. It had all but disappeared when Ivan Giuliani found an example among his other vines and had it examined and identified at the University of Pisa. He then converted an old vineyard with through grafting and in 2008 the first vintage of Vermentino Nero, practically unblended, came out on the market.
In the early 1930s, Luigi Giuliani returned from New York and acquired his first three hectares of land in the town of Fosdinovo to cultivates grapes and olives and produce honey. Since then Terenzuola has been handed down through three generations and when Ivan inherited it in 1993 he had no idea he would have dedicated himself heart and soul to it. In 1995, when he was fulfilling his military service and was stationed in Friuli and Slovenia, Ivan got to know local winemakers who transmitted to him their passion for winemaking and respect for the land. He brought this back with home him and began planting new vineyards and bringing back old ones, totally dedicating himself to this estate in the magnificent area of Lunigiana -  a zone situated between the Apennine mountains, Apuan Alps and Ligurian Sea – which is minutes from the sea and set between 50 and 450 meter above sea level. Here a man must depend on his own hands and basic tools. Since 2007, the estate has expanded to over 15 hectares between Luni, Candia and Cinque Terre.
Related Products