Research and integrity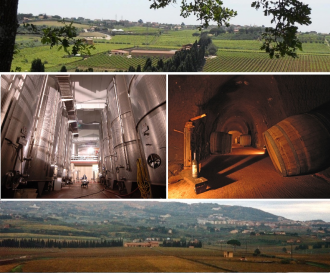 During the Lazio DOC and DOCG event in Rome, I had the occasion to discover an interesting producer in the Castelli Romani: Tenuta di Pietra Porzia. The 47-hectare estate is located a few kilometers from Frascati and has vineyards and olive groves along with a holiday farm facility that offers products from the estate as well as others from the area. Aside from striving for quality, the wines also seek to exalt the land through constant research which next year will result in a new red wine. It will be a Roma DOC made with an ancient grape variety, Lecinaro, which was rediscovered and experimented with at the Istituto Velletri and was recently listed in the National Registry of Wine Grape Varieties.
Here, however, we look at their Frascati Gold Label that was made to be a DOC and not a DOCG for marketing reasons. The wine is made using mostly Malvasia del Lazio grapes together with small amounts of Malvasia di Candia and Bombino, all grown at the estate. Cultivated using particular procedures, the grapes are fermented under controlled temperatures within 30 minutes of being picked. This avoids the use of sulfites during the winemaking process and very little during bottling. In the end the amount of sulfites are less than half what is permitted by law.
Related Products