Nicola Bergaglio: An amazing Gavi!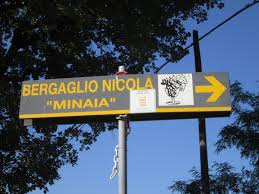 The Gavi producers' stand was next to ours at Vinitaly and so I obviously checked it out and my attention was drawn to the winery of Gianluigi Bergaglio. On the table were open bottles of Gavi Minaia from 2014 and 2015 along with a preview bottle of 2016. The wines made a pretty picture there in their ice-filled buckets and since there was no one there I went ahead and helped myself.
I knew the first two vintages well, they respectively received ratings of 93 and 94 points in the latest two editions of our Ultimate Guide to Italian Wine, and they were exactly what I had expected. The 2014 was more lithe and the 2015 had more body. But it was the 2016 that made my jaw drop, like in the film The Mask. It was fantastic, full yet lively, agile and elegant, an authentic "Chablis à l'Italienne" and perhaps the best Gavi I've ever tasted. A true wonder and, what's more, at a really reasonable price.
Nicola Bergaglio
Owner : Gianluigi Bergaglio
Frazione Rovereto - Località Pedaggeri, 59
15066 Gavi (AL)
Tel. +39 0143 682195
nicolabergaglio@alice.it
Year of Foundation : 1946
Total Bottles Produced : 140.000
Hectares of Vineyards : 17
Related Products