From the Astroni crater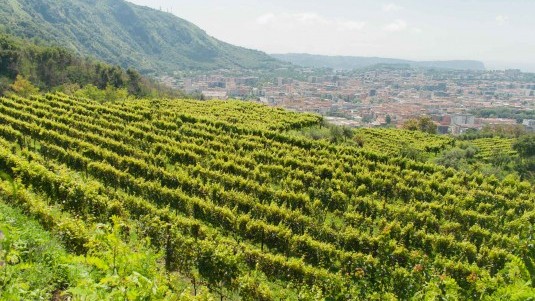 The origin of Gragano wine is linked to legendary places like Sibyl's Cave in Cuma and Lake Averno. History tells us that it was already consumed some 1,500 years ago and reached its pinnacle of success in the Middle Ages, when it was in great demand by the clergy and aristocracy. It was such an object of desire its name became synonymous with the excellence of the whole area. In 1845, painter Giacinto Gigante wrote: "Gragano wine lent its name to all wines in the Naples area and just the word Gragnano not only indicated a fragrant, limpid and sweet wine but also sweetness and authenticity". For decades this wine, together with Lacrima Cristi, was the most representative of the region of Campania and was (and still is) traditionally paired with another excellent Campania product: Pizza Margherita.
The Varchetta family's winery, Cantine Astroni, produces two interesting wines using the native grapes Piedirosso, Aglianico, Sciascinoso and other minor varieties. The vines are trained on low trellises and the soil of the sun-caressed vineyards is mostly sandy. The winery is located at the foot of the Astroni crater, a dead volcano that is part of the volcanic area of Campi Flegrei, on the border with the WWF nature park that was once the hunting reserve of the Bourbon King Charles.
Related Products