Drinkability and fragrance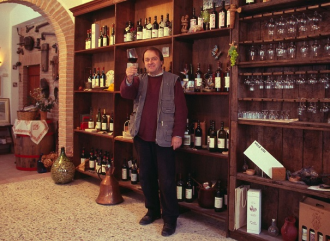 Is it Aleatico or Grenache? The doubt is reinforced by history which tells us that the grape used to make Pergola DOC, the former, arrived in the Cesano Valley from Umbria. Natives of Gubbio, in fact, were the ones who came over the Apennine mountains heading east with this grape that makes wines organoleptically similar to Gamay del Transimeno, which is made with Grenache, a synonym of Gamay. Another clue: Vernacchia di Serrapetrona is another Marche Grenache wine.
Be it as it may, there are no doubts over the potential of Aleatico, which is incomprehensibly still unknown even to the most passionate Italian wine lovers, a red with a particular aromatic transparency. Villa Ligi is a custodian and promotor of this wine, much like the Mancinelli is with Lacrima di Morro d'Alba, also in the Marche. There is another happy analogy between the two: Lacrima came out when the market was seeking dark-colored wines with intense aromas, whereas Pergola has emerged at an historic moment when wine lovers are looking for easy-to-drink and fragrant wines. The specialty of the house.
Related Products