Casanuova from Nittardi, the 2015 label is by Joe Tilson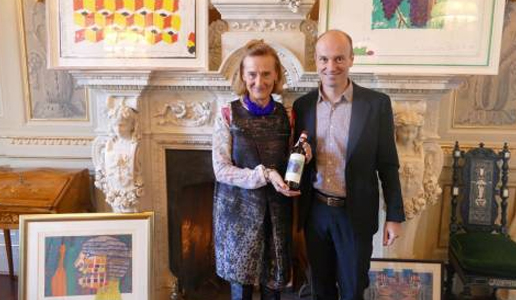 As it has done every year since the beginning, Nittardi has asked an artist to design the label for its historic Chianti Classico. For 2015 the task fell upon British painter Joe Tilson.
This is the 35th label for this wine designed by an artist. Since 1981, in fact, the label and silk paper wrapping for each bottle of Casanuova di Nittardi Vigna Doghessa Chianti Classico has been commissioned to an internationally known artist by the owners of the Nittardi estate in Chianti: German art dealer Peter Femfert and his Venetian wife Stefania Canali, to whom the vineyard that produces the grapes for this Chianti Classico is dedicated. Today their son Leon is fully involved and practically runs the estate.
Joe Tilson is an icon of the 1960s British Pop Art scene who has been in Italy for decades and lives in Venice, although he also frequents Tuscany. The painting for the label, "done is thick green and purple brushstrokes", is dedicated to the grape "which fully symbolizes life, the ancient cycle of the seasons that culminates in the harvest". The silk paper design is a homage to Venice and, in particular, the inlay floor patters of its churches and palaces.
The presentation of the 2015 'outfit' took place at Villa Cora in Florence where Chef Alessandro Liberatore created a particularly spot-on menu to pair with this and other wines from the Nittardi estate: Chianti Classico Belcanto 2015 (fragrant and agile), Nectar Dei 2013 (intense and wrapping) from Maremma and a great Riserva Chianti Classico 1997 (gentle and deep).
Related Products
Related Articles