A Fiano of sand and clay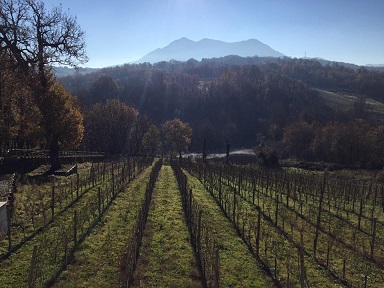 Since 2008, the small town of Lapio, in Irpinia, has been blessed with a new wine estate, Tenuta Scuotto. This modern and well-equipped winery – which also hosts a private residence and a restaurant – was built on a ridge with a fine view of Monte Tuoro and is surrounded by shrubs of Mediterranean brush and vineyards of Fiano grapes.
Edoardo Scuotto and his son Adolfo share the same passions and designed the winery with the aim of producing wines that were distinctly different. To this end they employed enologist Angelo Valentino who, using methods innovative for the area like the oval barrels like usually used for aging Riesling, created unique and non-conformist wines that have a strong personality. This was in part possible thanks to the particular composition of the sand and clay spoil together with the constant temperature variations common to the area all which gave the grape uncommon qualities.
Aside from producing Fiano from its six hectares of vineyards in Lapio, Tenuta Scuotto also cultivates other grapes like Greco and Falanghina for their white wines and produce some Aglianico and Taurasi reds that have an incisive personality and a lovey finesse. Total production is 40,000 bottles a year.
Related Products