Lustau and the Sherry triangle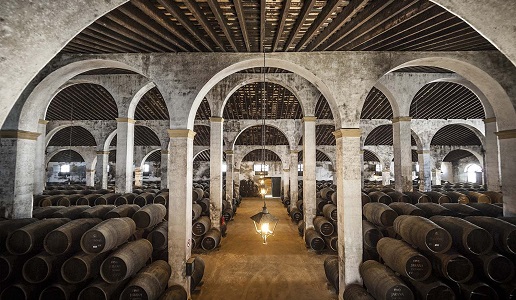 Lustau is the only estate that produces wine in each of the three cities in the Sherry triangle: Jerez de laFrontera, El Puerto de Santa Maria and Sanlúcar de Barrameda.
It is the European "sake" or, according to the better informed and more appropriately, the equivalent of Shaoxing, China's rice wine. Manzanilla is a clear and very dry Sherry from the Andalusia shores of Sanlúcar de Barrameda: a subtle concentration of umami.
The product of Atlantic sea air and, above all, flor yeast, and without the more common characteristics of white wine (and at the same time with very low levels of fruity aromas, overall acidity volatile sensations and sweetness), Manzanilla is a small concentration of salt, aldehyde, notes of bread and dried fruit.
Unknown in Italy even among the majority of wine lovers, this is a wine that not only has an exceptional quality/price ratio but is also excellent with food: from fish to mushrooms, sushi to ramen. Manzanilla not only wraps the flavor of foods but it also has a unique capacity to "scan" it while at the same time remaining somewhat on the sidelines.
A pearl not to be missed, especially when made by a top producer like Lustau.
While easy to pair with food, the wine is needy when coming to glasses, which must be small (Iso standard, egg-shaped glasses are perfect), and serving temperatures, which must rigorously be cold, right out of the refrigerator.
Sherry Manzanilla Papirusa n.m. Lustau
92/100 - € 18
Made from very ripe Paolomini grapes and fermented at a very high, controlled temperature in stainless steel with complete malolactic fermentation. The wine is then fortified with neutral-flavored wine spirits and matured in full barrels using the Solera method under flor. A very pale straw color and an aroma with alternating notes of chamomile, almond and a hint of graphite on a background of bread dough. The attack of the mouthfeel is flat and horizontal, very subtle and very dry and on the palate becomes thin, warm and dusty with notes of dried fruit followed by a saline, slightly bitter finish. The aftertaste is decidedly umami with notes of almond, salted anchovy and fresh mushrooms.
Related Products