Wine Spectator Superstar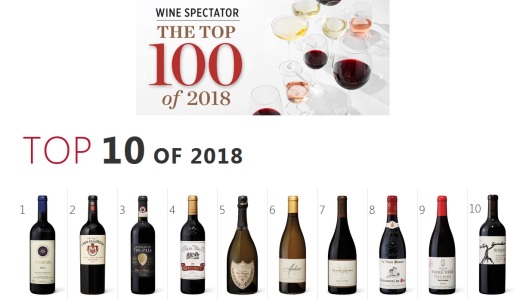 A follow-up and clarifications on the meaning of last week's editorial which was not to question the authoritativeness of Wine Spectator but offer some observations on the Italian press.
There would appear to be some misunderstandings concerning the purpose of the editorial I dedicated last week to the recognition received by Sassicaia 2015 in the American magazine Wine Spectator (WS) that ranked it first on its list of 'Top 100' wines which it complies every year. Allow me to clear up any misinterpretation.
Let's start off explaining the criteria used to draw up the list. First of all, this is not a list of the absolute best wines in the world but for the best 100 among those tasted and evaluated by WS collaborators. There is a big difference if you think about it. This aspect was fully made clear by the magazine but almost no one appears to have underscored this among those who commented on the list.
Second, in a very pragmatic and "Anglo-Saxon" way, the quality/price ratio was taken into consideration. It is an aspect taken into consideration when wines have the same point ratings along with that of where they are from. In other words, if a Burgundy costs 100 euros, this could be considered a convenient price whereas for a wine from an unknown area the same price would be exorbitant. This was another factor that few pundits bothered to take into consideration.
Third, the number of bottles produced is also important. It makes no sense for WS to award prizes to wines of which so few bottles were produced and are practically impossible to find on the American market. This explains why Sassicaia came out on top even though it "only" had a rating of 97/100, because while other wines had higher ratings they were more expensive and not as easy to find and the Italian one.
This said, let's move on to some other considerations. The purpose of my article was not to criticize Wine Spectator, which is a wonderful publication written by top professionals and that has an unquestionable and international authoritativeness. Nor was it my intention to be ironic about a recognition given to an extraordinary and Italian wine like Sassicaia. All I did was to point out and, I admit, complain about the fact that when we gave our award to the same wine, and by "we" I mean Italian wine critics who came to this conclusion, hardly anyone said or wrote anything and those who did accused us of always focusing in the "usual suspects" and being "banal". But then, when WS came to our same conclusion, it became important news for all the Italian mainstream media.
There is no question about the media clout WS has, a thousand times more than what we and other Italian publications have, but I think a little footnote about how we were first to recognize the quality of Sassicaia would have been in order. Just as it should have been news that every once in a while, even if this was the only time, a group of Italian experts got the jump on an authoritative international magazine that only later came to the same conclusion. Had this happened in another sector I don't think this would have been the case. Unfortunately, in the world of food and wine it was.
I believe that there are a couple of reasons for this. There is a certain xenophilia in the Italian mainstream media when it comes to food and wine. The only views given coverage concerning Italian restaurants are those of the very French Michelin Guide, which has also lent the term "star" to chefs. And this despite the fact that, for over 40 years, there has been the Guida dell'Espresso, which is no less authoritative. Then there is the fact that wine has always been considered too specialized and not of interest for the majority of Italian publications and TV networks. For the, it has its own "wine speak", is too geared for experts and too self-referential. Thus wine and food has been relegated to secondary news outlets or the back pages, that is until it becomes of "global" and the news comes from abroad.
And so while everyone seems to be talking about "Italian excellence" and "Made in Italy" and underscore the authoritativeness of those who speak of Italy from abroad, maybe even talking well as in this case, they ignore the small players who are nevertheless trying to be equally "in the game". I hope this has all been clear and now we can, finally, move on.
Related Products