Vintage Tunina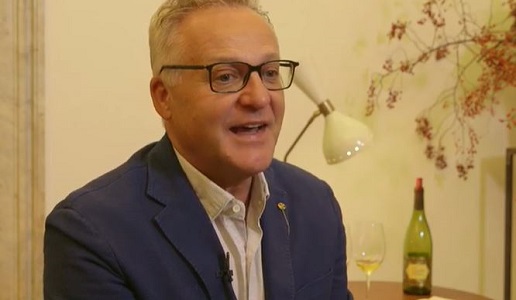 Following the accord between Jermann and Antinori, it's a pleasure to remember the birth of a friendship and a great wine.
Silvio Jermann and I are the same age. We met in 1980 when he and his wife Anna returned to Friuli, after living for a while in Canada, to work again at the family estate with Silvio's parents Angelo and Bruna. In 1975, before leaving, Silvio had begun to make a wine that was revolutionary at the time, one using different varietals cultivated in the Monte Fortino vineyard, right behind the old winery, and all fermented together. An authentic blend, in other words. In that vineyard were Pinot Bianco (which later turned out to be Chardonnay), Sauvignon and small amounts of Ribolla Gialla, Malvasia Istriana and even a few vines of Picolit. There might have also been some Friulano, which at the time was still called Tocai. The wine was fermented in stainless steel, matured for a year on the lees and underwent malolactic fermentation. This was quite different from what the other leading Collio producers, Mario Schiopetto first among them, were doing, preferring to make single-varietal wines using very modern methods for the time.
Silvio's estate and vineyards were in a particular place, Isoletta Collio di Villanova di Farra, which was a kind of enclave separated from the rest of the area. They were near Gradisca, surrounded by the Isontina plain, where the typical Collio Goriziano soil magically re-emerged, so much so that the wines qualified for that appellation. Silvio had studied enology at San Michele all'Adige, where he was a classmate of Mario Pojer, and wanted to return to the old traditions of his area, where the wines had been a blend of different varietals like Tocai, Ribolla and Malvasia. Single-grapes wines, on the other hand, were considered something modern.
For Silvio, who was not much over 20, returning to tradition represented doing something different, a kind of 2.0 wine, in other words. For this reason, he did not seek of have a DOC Collio appellation and named the wine Tunina, after Giacomo Casanova's poor lover. He utilized the varietals in different percentages than the traditional ones in order to produce a different and original wine. The 1975 version could be considered a kind of experiment because then he went to Canada and he did not repeat it.
Following his return to Villanova in 1978, Vintage Tunina, as it was then named, began to be made on a regular basis. I clearly remember those early vintages along with the doubts and discussions we then-young people had as we sought something different and important. Luigi Veronelli wrote in his column for Panorama magazine an article entitled "The Mennea of Wines", comparing Vintage Tunina to the great Italian runner from Barletta. Massimo Rustichini, an infallible and expert wine selector from Versilia, then promoted it big-time. Angelo Paracucchi, the great chef and restauranteur of Ameglia, near Sarzana, practically made it his house wine at his then-famous restaurant La Locanda dell'Angelo.
I was in the first years of my career as a wine lover and journalist and followed this birth of an authentic wine legend. For this reason, "Tunina" has always been part of my memory and past. Today, I still consider it to be one of the great Italian white wines and it remains the favorite wine of my 98-year-old father Alfredo, who at almost 100 has only drunk white wine, at least since 1936.
Now that Silvio has sold a majority stake in his winery to Antinori, it's nice to remember those days when a friendship was forged, one that continues today. He has reassured me the "our Tunina" will remain what it has always been but I had no doubt about this. In the meantime, I opened the last bottle of 2014 Tunina that I had in my cellar. Wonderful.
Related Products
Related Articles