The Ultimate Guide to Italian Wine 2018: Special Prizes and new 3 Stars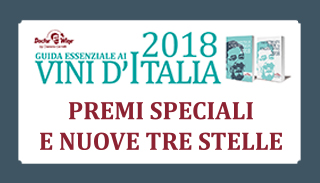 14 Special Prizes to underline, year after year, the excellence of some wines or the importance of some people or wineries, which are teams of people.
Since the first edition, we have focused on several wines and on the work of certain individuals to give our Guide a point of view on the world of Italian wine.
This year we added three more special prizes to our usual 11 (six for wines and five for people or for wineries) and these are Rosé Wine of the Year, A Life for Wine, which is an Oscar-like lifetime achievement award, and one to the wine that won the Best Italian Wine Award, a contest created by Luca Gardini and Andrea Grignaffini and that had Daniele Cernilli on the jury from the first edition.
Red wine of the year 
Barolo Monfortino Riserva 2010, Giacomo Conterno, Piemonte 
White wine of the year 
Vintage Tunina 2015, Jermann, Friuli Venezia Giulia
Rosé wine of the year 
Rosato 2015, A' Vita, Calabria (pag. xx)
Sparkling wine of the year 
Franciacorta EBB Extra Brut 2012, Il Mosnel, Lombardia
Sweet wine of the year 
Orvieto Classico Pourriture Noble 2015, Decugnano dei Barbi, Umbria 
Best quality/price ratio 
Aex aequo:
Castel del Monte Rosso Bolonero 2015, Torrevento, Puglia 
Chianti I Sodi del Paretaio 2016, Badia di Morrona, Toscana 
Widespread quality 
Alto Adige Terlaner 2016, Cantina Terlano/Terlan, Alto Adige
Best Italian Wine Award 
Oreno 2015, Tenuta Sette Ponti, Toscana 
Winery of the year 
Bertani Domains, Veneto 
Emerging producer 
Fiorentino, Campania 
Cooperation prize 
Settesoli, Sicilia 
Oenologist of the year 
Luigi Moio
Award for sustainable viticulture 
Saverio Petrilli
A life for wine 
Ambrogio Folonari
Together with the Special Prizes, we want to present the 3 wineries that have achieved the 3 Stars  (the best rating for a winery), reaching those which were awarded with the 3 Stars in the past edition.
The rating is an overall evaluation of the winery, not directly connected with the wines listed and evaluated in the present edition of the guide, but connected to other factors. First of all, the importance of the brand, its strategic role in the area. Then its development in recent years, its reputation for consistent quality and its international image.
Welcome to the Gotha of Italian producers according to DoctorWine to:
Capichera
Ceretto
Castello di Volpaia
Related Articles
| | | | | | |
| --- | --- | --- | --- | --- | --- |
| | The presentation of The Ultimate Guide to Italian Wine 2018 | 20/09/2017 | Redazione | Signed DW | |
| | The DoctorWine's 'faces' 2018: let's start with 95/100 | 21/09/2017 | Redazione | Signed DW | |
| | The DoctorWine's 'faces' 2018: 96/100 | 22/09/2017 | Redazione | Signed DW | |
| | The DoctorWine's 'Faces' 2018: 98/100 | 27/09/2017 | Redazione | Signed DW | |
| | The DoctorWine's 'Faces' 2018: 99 and 100/100 | 28/09/2017 | Redazione | Signed DW | |