The testament of Bonilli and the heredity of Cantarelli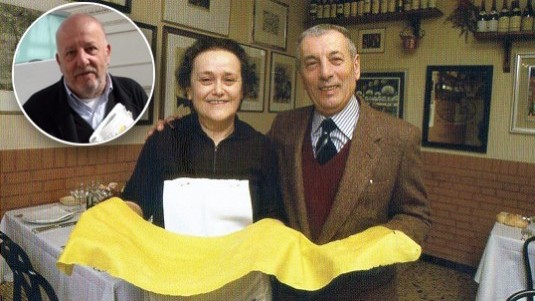 "Today more than ever, more than a country of restaurants Italy is a country of trattorias. Today a young and talented chef has this space to revive an important gastronomic tradition, one that is light, intelligent and new and not necessarily conservative. The era of expensive restaurants is over".
I do not remember who did this interview nor where it was published and I apologize with the journalist and the website. Nevertheless, I ran across it recently and it was probably the last statement Stefano Bonilli made before he left us. It seems like yesterday but next month will mark three years since that sad August 3, 2014. I knew him like few others did and I totally recognize his way of seeing things in those words, views that were current and visionary and would only surprise those who did not know him. And I totally agree with him. "The era of expensive restaurants is over" sounds like a decree and shed a light of truth on an every-expanding gap between the "general feeling" and haut cuisine. But this does not regard gastronomic research nor the modern role that young chefs are playing. And knowing well where Stefano Bonilli came from, it was clear that he had in mind what he had inherited from those who had introduced him to the world of food and wine, Peppino and Mirella Cantarelli. For those, I hope few, who do not know who they were I need only say that they were responsible for legitimizing and making regional cuisine acceptable in the 1960s. And they did this with their trattoria/restaurant/high-end quality food shop that was a mecca for food and wine lovers from Italy and beyond up until it closed November 1982, now 35 years ago. Even the Gault&Millau guide, published in Italy by the Espresso, which was a big supporter of "nouvelle cuisine" at the time, gave it a rating of 17/20. It was an extraordinary place where along with Mirella's cooking, between a Savarin rice risotto and her tortelloni, and the aged culatello ham selected by Peppino, there was a wine list that was simply unique and favored small Champagne producers who were relatively unknown over the great ones and included wines from Burgundy and the Langhe as well as some formidable spirits. It was a county trattoria in Sanboseto, near Parma, far from the tourist traps and the big cities. Re-reading what Stefano said in that interview I thought about them, and then about Guido and Lidia Alciati, then Gianni Cosetti of Roma del Tolmezzo, and Franco Colombani of Sole di Maleo. Fortunately, we still have Antonio and Nadia Santini of the Pescatore, which is not a trattoria but their cuisine exalts, by renovating it, a territorial tradition and, unlike many of their colleagues, they do not do things just for appearances. What Bonilli implied in his last interview was not just a personal opinion but a path to follow and which many "young and talented chefs" are doing. What we need to do now is give them more encouragement.