The Magic Master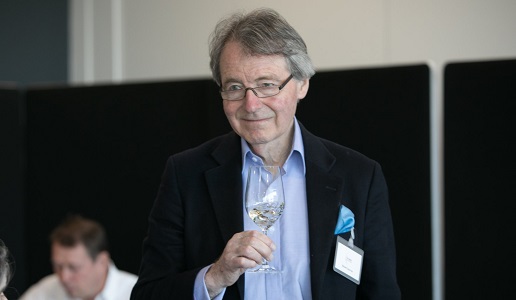 Steven Spurrier was a very great figure in the world of wine and his recent passing should not let us forget this.
In my opinion, the passing of Steven Spurrier did not get the attention it deserved, at least here in Italy. And so I thought it right to remember him and tell those who did not know him who he was and what he did for the world of wine.
Steven was without a doubt one of the most influential critics, connoisseurs and educators the world of wine has ever seen. For years, he wrote for Decanter, he even had a wine shop in Paris and he literally reinvented international wine contests in a modern context. He was a man of profound expertise and extraordinary kindness. A true gentleman.
In 1976, when he was living and working in Paris, he became captivated by California wines, which at the time were practically unknown. And so, together with Patricia Gallagher, the director of Academie du Vin, he decided to organize a comparative tasting between the best California wines and the famous Bordeaux Grand Cru Classé for the reds, which were considered the world's best, and some of the great Burgundy whites. Invited to take part in the jury of a "blind tasting" were a number of experts, enologists, producers and sector journalists, all French. The event was dubbed the Judgement of Paris, a play on words with Paris being both the name of the legendary prince of Troy and the French capital.
It goes without saying that the French were convinced that it would be a rout by the French over the unknown wines. Instead, it turned out that two wines from the Napa Valley triumphed, a 1973 Château Montelena 1973, among the Chardonnay-based whites, and a 1973 Stag's Head among the wines based on Cabernet Sauvignon. The wines that went down in defeat included such legends as Meursault Charmes 1973 Roulot, Puligny Montrachet Les Pucelles 1972 Domaine Leflaive and Beaune Clos de Mouches 1973 Drouhin among the whites and Châteaux Mouton Rothschild, Montrose and Haut Brion 1970 among the reds.
The French jurists were flabbergasted, the news rocked the wine world and Steven Spurrier and those California wines became famous.
Some 30 years later, in 2008, a film was made about the event, Bottle Shock, with the late and great British actor Alan Rickman playing Steven Spurrier.
For me, Steven was a friend. He welcomed me with great cordiality as a member of the jury of the Decanter World Wine Awards, which he ran for many years alongside Sarah Kemp, and we even conducted a couple of seminars together in London on Italian wine. For me, this was like volleying with Roger Federer, seeing how Steven was on a whole different level in the world of wine criticism. And yet, he did not act as if he was. He, who was a true authority, treated me like a colleague, gave me my space and, surprisingly, graciously took my views into consideration.
I remember tasting with him two Italian wines he did not know, Turriga from Argiolas and Vigna Pedale Torrevento, and he wanted to know from what they were, what the estates were like, the area of production and the winemaking methods used. He held me in a regard that I did not minimally believe I deserved from him. Jokingly, I called him The Magic Master because while he was not a Master of Wine, everyone nevertheless considered him to be a great maestro. I will always remember him for being so kind, cheerful, infallible in tasting, curious and modest as only truly great people know how to be.