The Guide's 'faces': 98/100 and the Special Prizes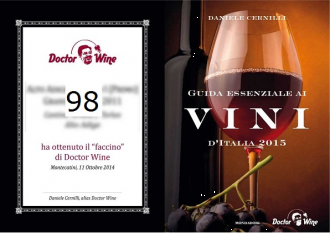 Now we have reached the top of the list.
Here follow the nine wines that achieved an incredible rating of 98/100, almost perfection.
These will be followed by a list of the special prizes awarded by our editor-in-chief Daniele Cernilli who explained that ''We focused on a few wines in order to highlight the work of a few people and make the Guide also a 'window' on the world of Italian wine. Ten prizes in all, five awarded to wines and five to people or wineries, which are people also.
1. Alto Adige Terlano I Grande Cuvée 2011 Terlano, Alto Adige
2. Barbaresco Crichet Pajé 2004 Roagna I Paglieri, Piemonte
3. Barolo 2010 Bartolo Mascarello, Piemonte
4. Barolo Monfortino Riserva 2006 Giacomo Conterno, Piemonte
5. Barolo Monprivato Cà D'Morissio Riserva 2006 Giuseppe & Figlio Mascarello, Piemonte
6. Barolo Villero Riserva 2007 Vietti, Piemonte
7. Bolgheri Sassicaia 2011 Tenuta San Guido, Toscana
8. Faro 2009 Palari, Sicilia
9. San Leonardo 2007 San Leonardo, Trentino
I Premi Speciali: 
Come ha voluto sottolineare il Doc, "abbiamo voluto focalizzare alcuni vini, sottolineare l'operato di alcune persone, per rendere la guida anche un modo per fornire un punto di vista sul mondo del vino italiano. Dieci premi, cinque assegnati a vini e cinque a persone o aziende, che di persone son fatte".
Vino bianco dell'anno
AA Terlaner I (Primo) Grande Cuvée 2011, Cantina Terlano / Terlan, Alto Adige
Vino rosso dell'anno
Barolo Villero Riserva 2007, Vietti, Piemonte
Vino dolce dell'anno
Romagna Albana Passito AR Riserva 2006, Fattoria Zerbina, Emilia Romagna
Vino vivace dell'anno
Franciacorta Cuvée Annamaria Clementi Rosé Extra Brut 2006, Ca' del Bosco, Lombardia
Vino dal miglior rapporto qualità/prezzo
Rosso Piceno Superiore Brecciarolo Silver 2012, Velenosi, Marche
Azienda dell'anno
Sottimano, Piemonte
Il produttore emergente
Paolo Savoldo, Fradiles, Sardegna
Premio cooperazione
Ruenza Santandrea, Cevico, Emilia Romagna
L'enologo dell'anno
Anselmo Martini, Cavit, Trentino
Premio vitienologia compatibile
Francesco Iacono, Oppida Aminea, Campania
Special Prizes
White wine of the year
AA Terlaner I (Primo) Grande Cuvée 2011, Cantina Terlano / Terlan, Alto Adige
Red wine of the year
Barolo Villero Riserva 2007, Vietti, Piemonte
Sweet wine of the year
Romagna Albana Passito AR Riserva 2006, Fattoria Zerbina, Emilia Romagna
Sparkling wine of the year
Franciacorta Cuvée Annamaria Clementi Rosé Extra Brut 2006, Ca' del Bosco, Lombardia
Wine with the best quality/price ratio
Rosso Piceno Superiore Brecciarolo Silver 2012, Velenosi, Marche
Winery of the year
Sottimano, Piemonte
Emerging producer
Paolo Savoldo, Fradiles, Sardegna
Cooperation prize
Ruenza Santandrea, Cevico, Emilia Romagna
Wine maker of the year
Anselmo Martini, Cavit, Trentino
Substanable winemaking prize
Francesco Iacono, Oppida Aminea, Campania