The Best Wines for Quality/Price Ratio 2019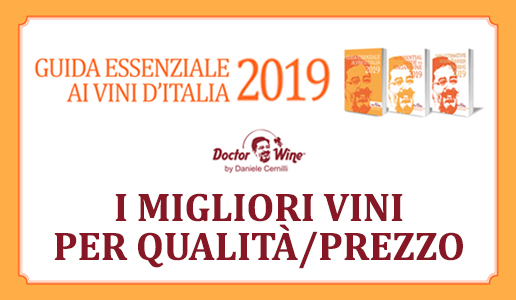 To draw up this final classification of the 11 wines with the best quality/price ratio, in other words wines you can buy at a very convenient price, we selected those that had a rating of 91/100 and above and which cost nine euros or less.
Coming out in top was Cirò Rosso Classico Superiore Duca di San Felice Riserva 2014 from Librandi. This Calabrian classic beat out the competition thanks to its very high quality (confirmed over the years) and truly affordable price for a Riserva: € 9.
The region of Abruzzo had the most best buys with three wines in this category, followed by the Marche region with two and then Emilia Romagna, Basilicata, Veneto, Lombardy, Sicily and Calabria.
Please note: the prices we report are referred to the Italian market.
Cirò Rosso Classico Superiore Duca di San Felice Riserva 2014, Librandi, Calabria 94 € 9,00
Montepulciano d'Abruzzo 2017, Villa Medoro, Abruzzo 92 € 8,00
Romagna Sangiovese Superiore S 2016, Fattoria Monticino Rosso, Emilia Romagna 92 € 8,00
Verdicchio dei Castelli di Jesi Classico Superiore Pievalta 2017, Pievalta, Marche 92 € 8,00
Bianchello del Metauro Superiore Tenuta Campioli 2016, Fiorini, Marche 91 € 6,00
Recepit Rosato 2017, 600 Grotte, Basilicata 91 € 6,00
Gambellara Classico Rivalonga 2016, Menti, Veneto 91 € 7,00
Malvasia Il Bardughino 2017, Alessio Brandolini, Lombardia 91 € 8,00
Montepulciano d'Abruzzo Ferzo 2016, Codice Citra, Abruzzo 91 € 8,00
Montepulciano d'Abruzzo Sunnae 2017, Col del Mondo - Tenuta del Priore, Abruzzo 91 € 8,00
Nero d'Avola 2017, Cantine Colosi, Sicilia 91 € 8,00
Related Articles
| | | | | | |
| --- | --- | --- | --- | --- | --- |
| | I Faccini DoctorWine 2019 con 95/100 (1) | 09/10/2018 | Redazione | Signed DW | |
| | I Faccini DoctorWine 2019 da 95/100 (2) | 10/10/2018 | Redazione | Signed DW | |
| | I Faccini DoctorWine 2019 con 96/100 | 11/10/2018 | Redazione | Signed DW | |
| | I Faccini DoctorWine 2019 da 97/100 | 12/10/2018 | Redazione | Signed DW | |
| | I Faccini DoctorWine 2019 con 98 - 99 e 100/100 | 16/10/2018 | Redazione | Signed DW | |