Supertuscans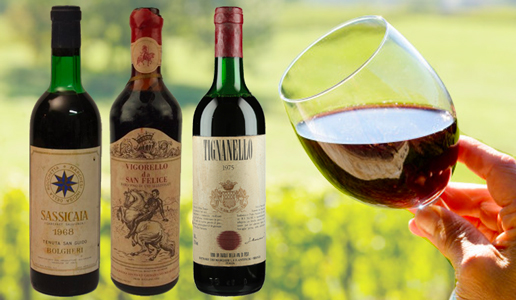 Created as a means to identify top wines that did not have a DOC classification, the term Super Tuscan synthesized a phenomenon that responded to a need to experiment but also for economic reasons.
The term Super Tuscan was first used in the mid-1980s by the English journalist and Master of Wine Nicholas Belfrage and was then adopted by the English press. For sure is was long after this type of this wine came about, one which had three distinct roots.
The first, which then became the most famous, was determined by the birth of Sassicaia, which made its official debit in 1968 (and according to Giacomo Tachis was a blend of 1966, '67, '68 and '69 wines) after having been for years the "table wine" of the Incisa della Rochetta family for strictly private use. The wine was a Bolgheri red based mostly on Cabernet Sauvignon with a small addition of Cabernet Franc that, by regulation, did not qualify for any particular appellation. Later, in 1994, the DOC Bolgheri classification was created where Bolgheri Sassicaia found an authoritative home with even a specific citation.
The second root involved a single-varietal Sangiovese wine, the forerunning of which was Vigorello in 1968, made by Enzo Morganti, who at the time was the head of the San Felice winery, owned by the RAS insurance company, and Giulio Gambelli, the legendary winemaker from Poggibonsi and pupil of Tancredi Biondi Santi.
The third saw Sangiovese blended with Cabernet Sauvignon, the result being Tignanello from Antinori but only as of 1975. This because the first edition, in 1970, was still called Chianti Classico Riserva del Podere Tignanello, while the 1971 did not have the "heretic" blend but rather was based on Sangiovese with the small addition some local varietals. The 1970 version still had in its bend a minimal amount of white grapes, while the 1971 did not.
In many of these cases, Giacomo Tachis played a key role. This extraordinary and skilled enologist, a pupil of Emile Peynaud in Bordeaux and who was in charge of winemaking at Marchesi Antinori until 1993, was, together with Piero Antinori, the person who inspired these wines.
All the other Super Tuscans came afterwards: Le Pergole Torte Montevertine, La Corte del Castello Querceto, I Sodi di San Niccolò Castellare, Sangioveto Monsanto and Badia a Coltibuono, Solaia (again from Antinori), Cepparello Isole e Olena, Sammarco Castello dei Rampolla and Ghiaie della Furba Capezzana, all these before 1980. Then in 1981 came Flaccianello della Pieve Fontodi and Camartina Querciabella and all the rest. In many cases there were single-grape Sangiovese wines, when this was not permitted under Chianti Classico regulations, or Sangiovese and Cabernet Sauvignon together, mostly Cabernet blends and later also Merlot and Syrah.
All these wines broke with established traditions out of a nneed to experiment, as well as for economic reasons. At a time when Brunello di Montalcino had yet to explode and Chianti Classico was suffering from an image crisis and falling sales, many producers decided to "distance" themselves from established appellations.
Beginning in the late 1990s and up until a few years ago, the Super Tuscan star appeared to be fading. But for a while now, as occurs with many market phenomena, these wines seem to be making a slight comeback. While certain wines like Tignanello, Fontalloro, Cepparello, I Sodi di San Niccolò and Pergole Torte never really suffered from a slump in sales or prices, many other Super Tuscans were hurt by a rebound for classic appellations that threatened their very existence. What is true is that, for many years, the Super Tuscans demonstrated the potential of Tuscan winemaking and by doing so contributed to modifications to the regulations for the traditional DOC and DOCG wines. Today, for example, it is possible to produce a Chianti Classico using only Sangiovese, which was not the case only 20 years ago. Thus there can be no denying that many of the Super Tuscan wines and their creators wrote a fundamental chapter in Italian winemaking over the past few decades.