Rana and Beck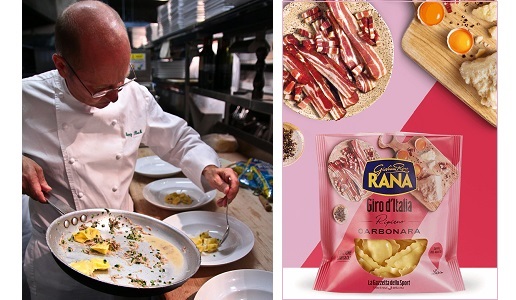 Copyright laws do not apply to recipes but the paternity of the carbonara-filled ravioli that Giovanni Rana has launched, to coincide with the Giro d'Italia cycling race, belongs to Heinz Beck and this should be recognized.
Twenty years ago, the sequential gearbox only existed in Formula. They can now be found on various automobile models on the road today, an example of how the innovations made on those extreme vehicles back then are now employed on a vast scale.
I remembered this when I saw that pasta producer Giovanni Rana has come out with a line of ravioli with a carbonara filling, a recipe that was invented some years ago by Heinz Beck, the very famous and star-studded chef of the La Pergola restaurant at the Rome Cavalieri Hotel, the capital's only three-star Michelin restaurant. This dish was and I believe still represents his piece di resistance, one that I have tasted a few times and, I must admit, it truly is a splendid dish, a homage the great German chef made to Rome, the city where he has lived and worked since 1993.
I don't know whether Heinz Beck knew that a recipe that he basically invented had inspired, by chance or on purpose, the new ravioli from Rana, a product that is undoubtedly worthy of respect but is produced on an industrial level by the tens of thousands, if not more.
The time may have come to recognize the innovative role that many great chefs play in creating recipes that, in cases like this one, are adopted by the mass production food industry. This is nothing new. In fact, I remember how even Gualtiero Marchesi, decades ago, collaborated with an important food giant for the creation of ready-to-eat frozen meals and how some of the recipes of Carlo Cracco were included, when you could still eat on a train, on the menus of the high-velocity Frecciarossa trains.
However, it should be noted that these examples were the result of precise agreements between the chef and the industry, something which I do not believe was the case with Beck, although I may be wrong. If this were the case, I would suggest that Giovanni Rana, who is also a very charming person, recognize that the idea of carbonara-filled ravioli came from Heinz Beck, even if he cannot claim this because copyright laws do not apply to recipes. And should he have the occasion, I think he should at least give Beck a call, to recognize that the recipe in question was decidedly his invention.