White and Rosé Wines for the Summer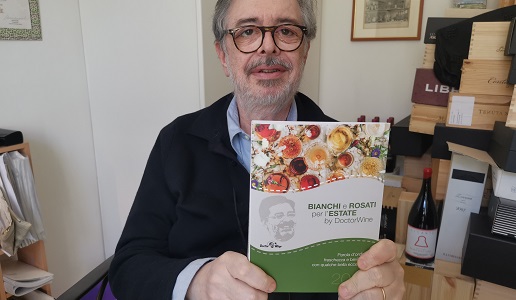 The fourth, pocket-sized guide by DoctorWine is out, a booklet with the best white and rosé wines we have tasted in recent years.
One of the few positive things to come out of this complicated moment we are living through was that we at DoctorWine have rediscovered the old and lovely art of publishing and come out with a series of booklets. We began with Mangiare e Dormire tra I Vigneti (Eating and Sleeping Amid the Vineyards), which had a small yet significant success, then came Vini per Tutte le Tasche (Wines for all Budgets) and Bollicine Italiane (Italian Bubblies), both of which were well-received by our readers and the producers involved. Now we present Bianchi e Rosati per l'Estate (White and Red Wines for the Summer), which is the biggest among the four, a copy of which I now hold in my hands. Hot off the press, as they say.
Ever since I have dealt with wine in a professional way, at least since 1987 when the first Guida ai Vini d'Italia del Gambero Rosso (The Gambero Rosso Guide to Italian Wines) was compiled, I feel great satisfaction when a new publication comes out. But then one notices some errors in copy editing, which always happens, and the enthusiasm wanes a bit. Nevertheless, there is something magical every time one holds in their hands the concrete result of a group editorial effort.
What's nice now is that we are back doing a job we really love in a continuous way. This even in times of the social media and during a period when events, public tastings and encounters have been almost impossible to organize, making this return to our roots something romantic and historic. And it works, beyond what some may think. In fact, many people still appreciate the smell of paper and to be able to turn the pages of a book and there are even those who insist on this.
We have now come out with a booklet that I hope will be valuable. It focuses on wines for the summer, as the title indicates, the best white and rosé wines that we have tasted in recent years, including some true enological evergreens alongside little gems from tiny and artisanal producers that are difficult to read about elsewhere. This is a lovely publication that I hope you will like and I hope you buy more than just one copy, not just because you would be helping us out but also because, I must admit, I'm surprised how well it came out.
We did not indicate specific vintages because, for the most part, these are wines that reach the market during the year after they were made. Thus it seemed logical to us to refer to the latest vintage available and the tasting notes refer to those. This was an approach the Luigi Veronelli often used for his historic Catalogues. I like this new booklet a lot, even if I am directly responsible and am always very critical about the things we do. And this time I am very pleased with what we have be able to produce.
You can buy this booklet following the link: https://shop.doctorwine.it/prodotti/libri/bianchi-e-rosati-per-lestate-by-doctorwine