Monfortino vs. Monfortino: musical harmony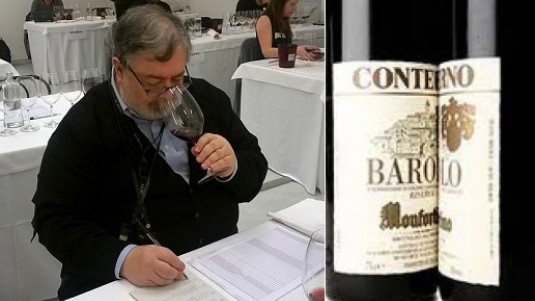 I'm going to try and explain why Monfortino is Italy's greatest wine. This is no great discovery of mine, but it isn't something you can just take for granted, either. The question arose quite clearly because I happened to have had at home, for some time now, a bottle each of the '96 and of the '61, two of the best vintages – or perhaps "the" best vintages - ever. The right opportunity cropped up for me to open them and I did so, hoping that they would both be in good condition. Opening the bottle of '61 Monfortino was certainly a bit of an effort, but the cork had kept well and it didn't crumble.
I should make one or two points first. I hate Barolos that are too old, those which start to smell of liquorice and glutamate. I adore those that still have notes of violets and slightly smoky aromas, what the French describe as "goudron" (tar). I detest Barolos that are too tart and thin, such as those that are fashionable nowadays. It's no accident that all – and I do mean all – the great experts on Barolo maintain that those of Monforte and the southern part of Serralunga are the best. At La Morra and in Barolo itself, they make elegant wines, but ones that are less long-lived and complex. The finest Barolos come from between the Rionda hill and Cascina Francia, perhaps arriving as far as the Ginestra vineyard and including part of Bussia as well.
Above all, I adore Monfortino, which was created by Giacomo Conterno, produced for years by his son Giovanni and now, following his death, by Roberto Conterno, son of Giovanni and grandson of Giacomo. It is made with maturation in large oak casks; long macerations, sometimes for even more than a month; release onto the market after seven or eight years' ageing; and it is capable of evolving in the bottle for decades. The grapes? Nebbiolo, especially of the Lampia sub-variety: perhaps once upon a time Giacomo used to add a little Barbera, but now you're not allowed to. You know, somebody decided that it wasn't "traditional"…
The '61 and '96 were, on the whole, fairly similar vintages: hot without being torrid, producing good but not over-abundant (like in '64) quantities of perfectly ripe grapes.

Monfortino 1996
Barolo Docg Riserva
Giacomo Conterno
| | |
| --- | --- |
| Rating » | 96+ |
| Category » | Red |
| Region » | Piemonte |
| Country » | Italy |
I open up the '96. The cork comes out easily and one starts to smell a precise scent in the air. Veronelli used to call it "the breath of Barolo", but I had never been aware of it in such an obvious way before. I pour the wine into large glasses, whereas they will be smaller for the '61, which shouldn't be exposed to too much oxygen, with all those years on its back. It is an intense garnet with a few orangey hints, and so bright that it seems to reflect the light and amplify it. I swirl it in the glass – just a little – and then sniff it. It doesn't take long for it to express itself. What strikes one is the way it has remained intact, with clear-cut fruity and floral notes, without a hint of oxidation or heaviness. "How many '96 Barolos are already decrepit" I think to myself. Here there are violets, wisteria perhaps, roses, raspberry preserve and an incipient smoky note. In a few years' time it'll be like tar, but you can already sense the way it's going to evolve. I take a sip, just to prepare my taste buds; then another small one. I am immediately aware of the tannins, which then become more dilute and give way to a brackish acidity – very typical of Monfortino – that accompanies the taste right through to the finish. It body is slender and fairly linear, but not sharp; indeed, it has a glycerine-based roundedness that makes the wine well-balanced and silky, and which increases its persistence on the palate. It is still young but already drinkable.
My rating? Let's say 96, but with room for improvement: it could reach 98, but not 100. The finish is long but not interminable.

Monfortino 1961
Barolo Docg Riserva
Giacomo Conterno
| | |
| --- | --- |
| Rating » | 100 |
| Category » | Red |
| Region » | Piemonte |
| Country » | Italy |
The '61 is harder to open. It calls for a two-pronged corkscrew (aka Butler's Friend) and fortunately there's someone present who knows how to use one. We don't really want to have to decant it, and we then see that there is less deposit than we expected anyway. We use smaller glasses in order to avoid unnecessary oxidation, and we take great care when pouring it. It's actually darker in hue than the '96, the rim is brown and the colour a deep garnet. The bouquet is sensational. There's a bit of liquorice, but together with mint, almost balsamic tones of officinal herbs, perhaps some dried thyme, dried roses and even a hint of tamarind and of cinchona. I don't know how much else you could expect from a Barolo, and especially a Barolo that's 50 years old.
I try putting it in my mouth. You really have to pay attention when you taste a wine that is this well-balanced: there are no prevailing elements; it's just a perfect whole. Silk? Musical harmony? These are both aspects with which you could make comparisons, without even having to try too hard. Yes, silk: that's the texture it has. It doesn't have the yielding roughness of velvet or fustian, but rather something that has no harshness to it, like silk in fact. There isn't much point in talking about tannins and acidity here. Everything has been integrated and resolved into a higher equilibrium that simply gives pleasure and should not be over-analysed, but just experienced and enjoyed.
Even a rating wouldn't make much sense, but if I have to give one, this is worth 100, the maximum, perfection (at least as far as wine is concerned).