Twenty-two seminars at the Milan presentation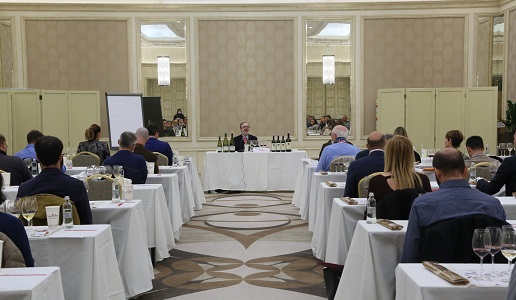 This year's presentation of our Essential Guide to Italian Wine 2022 in Milan will offer 22 seminars, each an hour long and each with ten wines explained by our experts. They will then be followed by an open tasting. Last year, without vaccines and in the middle of the pandemic, there we no reports of anyone being infected with Covid at our presentation and we will do everything to ensure this is true again this year.
As you have seen on our site and social media outlets, this year the presentation of the Essential Guide to Italian Wine 2002 will take place on October 2 and 3 at the Principe di Savoia Hotel in Milan, where 22 seminars will also be held. Each seminar will be composed of ten wines presented in a supervised tasting by yours truly and others who collaborated on our publication and they will be to around 50 participants at a time. Everyone will enter separately and will have to wear a mask until they are seated at seats that will be properly distanced for the safety of participants, as called for by anti-Covid regulations.
The wines will be served in sanitized glasses at each seminar and the four halls used for the seminars and tastings will also be sanitized. The seminars will rotate among the halls that will be used no more than six times over a day and a half period. A list of the seminars, their cost and the wines presented can be found on our website and social media outlets. All those who reserve to participate will have to show their green pass (which can also be obtained by having a negative Covid test within the previous 48 hours for those who have not been fully vaccinated) before entering.
Last year, without vaccines and in the middle of the pandemic, we did not hear of a single person being infected by the virus at our presentations. We intend to maintain this "tradition" and will do everything possible to ensure this is the case.
The presentation kicks off at noon on Saturday, October 2, and will continue until 8pm on Sunday, October 3 and will demand a significant and intense organizational effort on the part of all of us. Upon exiting the seminars, participants will be given access to a hall where it will be possible to taste other wines from participating producers that will be served by sommeliers from the Lombardy chapter of Fisar together with producers who choose to take part, not to serve the wines but to interact with the public. The seminars will be spaced out time-wise and so access to the general tasting will never be overcrowded, also in accordance with the regulations we are called on to respect as well as to allow everyone to taste the wines with calm and care.
It goes without saying that we will need the collaboration and understanding of all taking part. We will give it our all as we did last year when over 900 people participated and almost everyone seemed to appreciate how the event was organized, which was quite a new format dictated by the times. Six minutes will be devoted to each wine for the around 50 wine lovers and sector professionals at each seminar (which are an hour long). Looking back at the classic "banquet" tastings, with 200 producers and 1,000 people taking part, as was the case up until 2019, the numbers stopping at each table were not that different nor the enthusiasm.
What has changed is the overall organizational structure and the readiness of participants to respect the rules which cannot be ignored. We look forward to seeing you. With the entry fee everyone will receive a copy of the guide and hope we can taste wines together and in this way take the first steps towards a future normality, something we all hope for no one excluded.
We thank those now who will reserve a seat which will also be a way to support us as we do our job.
The Masterclasses:
Saturday, October 2nd
Sala Bar, h. 12:00-13:00 - BOLLICINE ITALIANE
Sala Cristalli, h. 12:30-13:30 - I VINI DELL'ALTO ADIGE TRA VALLI E VETTE
Sala Bar, h. 14:00-15:00 - PUGLIA: GRANDI VINI TRA I DUE MARI
Sala Cristalli, h. 14:30-15:30 - CHIANTI CLASSICO: L'ICONICA STORICITÁ
Sala Galileo A, h. 15:00-16:00 - SICILIA ORIENTALE: NON SOLO ETNA
Sala Galileo B, h. 15:30-16:30 - MARCHE & ABRUZZO: I VINI DELL'ADRIATICO TRA PASSATO E FUTURO
Sala Bar, h. 17:00-18:00 - SARDEGNA CON VISTA
Sala Cristalli, h. 17:30-18:30 - UN VIGNETO CHIAMATO FRIULI
Sala Galileo A, h. 18:00-19:00 - LANGHE E NON SOLO
Sala Galileo B, h. 18:30-19:30 - CAMPANIA & MOLISE: BENVENUTI AL SUD
Sunday, October 3rd
Sala Cristalli, h. 10:30-11:30 - TUTTI I COLORI DELL'ALTO ADIGE
Sala Bar, h. 11:00-12:00 - POT POURRI
Sala Galileo A, h. 11:30 - 12:30 - IL GRANDE STILE DELL'AMARONE
Sala Galileo B, h. 12:00-13:00 - GRANDI BIANCHI
Sala Cristalli, h. 13:30-14:30 - BRUNELLO DI MONTALCINO
Sala Bar, h. 14:00-15:00 - FRANCIACORTA E SUPER BOLLICINE
Sala Galileo A, h. 14:30-15:30 - BAROLO CON UN "INTRUSO"
Sala Galileo B, h. 15:00-16:00 - SUPERTUSCAN & FRIENDS
Sala Cristalli, h. 16:30-17:30 - DIECI SFUMATURE DI SANGIOVESE
Sala Bar, h. 17:00-18:00 - L'ALTRA TOSCANA
Sala Galileo A, h. 17:30-18:30 - TERRITORALITÁ DA NORD A SUD
Sala Galileo & C, h. 18:00-19:00 - A TUTTO VENETO
Here follows the link to reserve your ticket for the tastings in Milan, October 2-3: https://shop.doctorwine.it/prodotti/eventi