Thank you all again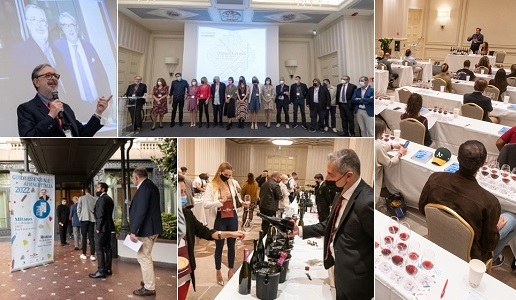 For us at DoctorWine, the presentations of our guide represent our greatest organizational effort. Now that the three days – two in Milan and one in Rome – are over, we can say we are satisfied and grateful to those of you who took part.
Around a year ago, editor-in-chief Daniele Cernilli wrote an editorial (We pulled it off) to proudly underscore how the teamwork of our small staff was the determining factor for the success of the two (Milan and Rome) presentations of the Essential Guide to Italian Wine 2021 at such a crucial moment in the ongoing pandemic. And he obviously thanked all those producers who, despite the objective difficulties involved, had believed and supported us.
Were we to now republish that same article, changing only the dates, the same would hold true. The overall situation has improved somewhat thanks to the vaccines that have reduced the number of those infected and allowed those with a green pass to move about with a certain sense of security. But we are not out of the tunnel yet and the precautions we now all know and have learned to live with over the past year and a half remain indispensable and we all need to be cautious.
Nevertheless, taking into account these indispensable precautions, we were able to organize a kind of 'encore' of last year's events, offering four more seminars in Milan (22 compared to 18) and expanding the reception area in Rome to welcome everyone with greater serenity. The response, by producers who demonstrated their confidence in our project, you readers and the public that loves wine and appreciates an opportunity to taste great wines, met even our rosiest expectations. Over 1,000 people attended the two days in Milan, all regularly respecting social distancing and schedules, all with green passes and wearing masks, and all in an orderly way and without protesting against the rules imposed. There was only one episode of "intemperance" that disturbed one of the Sunday seminars and for which we apologize. But the unnecessary and excessive protest by a lady present was not foreseeable and was difficult to control. In Rome, we had some 600 participants and everything went smoothly, the change in venue did not create problems and everyone was pleased.
At this point, we would like to express our particular gratitude to those wine producers who supported us and all the wine lovers who follow us and make this such a wonderful jobWe cannot forget to thank Parmigiano Malandrone 1477, Formaggio Bianco d'Italia and Consorzio Salumi Dop Piacenza who gladdened the palates of the participants with really tasty cheeses and cold cuts. And then Mario Fongo Il Panatè, with its crispy bakery delights, and Lurisia with water. And then Pulltex Italia, corkscrews and wine accessories, and Grafiche Federighi, specialized in printing fine labels. Thank you for accompanying us in the presentations in Milan and Rome.
.And for those who think that two consecutive weekends, in two different cities, was a herculean organizational effort, just remember that next weekend, and until October 19th, we will be in Verona for the Vinitaly Special Edition with our traditional DoctorWine stand (pavilion 6 stand C9). Maybe we'll see each other again in Verona.