Our restart in Rome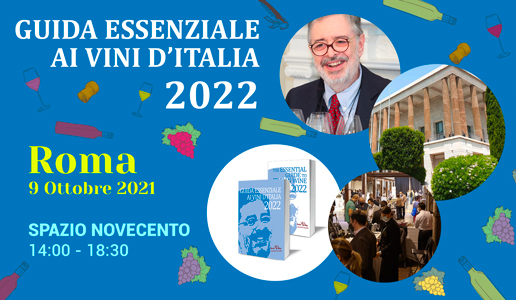 The presentation of our Essential Guide to Italian Wine 2022, after the weekend one in Milan that ended yesterday and for which we thank all participants and producers, moves now to Rome, next Saturday.
We can now finally return to our classic tastings, with tables and all, but with all the precautions needed and respecting current regulations. This will take place in Rome on Saturday, October 9, where 111 wineries will offer almost 300 wines at Spazio Novecento, located in Piazza Guglielmo Marconi 26/b in the capital's EUR district.
This will be a cautious restart, as we await the definitive end of this truly difficult period for all of us, but it will be a way to say that we are still here, that we are back staging an event open to the public with others sure to follow our lead and to whom we wish success. This is because it is difficult to imagine a world of wine without cooperation, without a rapport between producers and even between those who write about wine, offer courses and specialize in communication.
For sure, we have had to come up with a multitude of alternatives to make do. Tastings via Zoom, video presentations and online courses. But a direct rapport and a return to normality are irreplaceable, as is the participation of the public at theatres and sporting events. And even I, a Roma fan, was happy to see the Roma-Lazio soccer derby, which we lost, attended by thousands of passionate fans. And, about the result, I will say no more.
In our own small way, we will try to organize a tasting the way we used to do up until 20 months ago, because that is how long it has been. We will ask everyone to show their Green Pass, to wear a mask when necessary (obviously not when tasting) and to have a little patience and to collaborate with us. The organizational problems will still be significant and there will be some mishaps so please forgive us.
We will do everything possible to avoid any inconvenience but understand that restarts are not easy and we will have to respect the rules, whether we like them or not, because this is the only way that we can do this these days. And so, if anyone who reads this has the time, desire and, above all, the intention of supporting this restart attempt, I hope you will come and join us. We will welcome you as an old friend, we at DoctorWine and all the producers taking part.