Wine for all budgets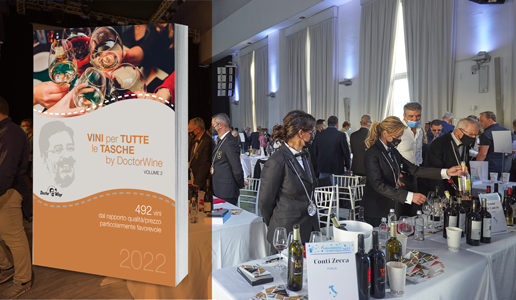 An open tasting in Rome's EUR district will debut the second edition of our Vini per Tutte le Tasche (Wines for All Budgets) guide, which reviews almost 500 wines that have an excellent quality/price ratio.
Today will see the debut of the second edition of Vini per Tutte le Tasche (Wines for All Budgets), a guide that looks at 492 wines which cost between 6 and 15 euros, a selection of the best wines we have encountered during our past year's tastings. Our intention is to demonstrate that to drink well one need not spend a fortune and that, especially in Italy, it is still possible to find many excellent wines offered at a reasonable retail price and which most of our readers can easily enjoy.
The small yet important success of the first edition convinced us to do it again and offer an even larger selection than last year, in the hope of offering a concrete service to those who wish to read us.
The wines were picked from the thousands we tasted and we in no way claim that it is a complete or definitive selection. Nevertheless, we can guarantee that each wine singled out is of excellent quality and is worth being tasted and appreciated. The wines are from all of Italy's regions, a demonstration that Italy is indeed the land of wine, especially in regard to the price range we are looking at.
For sure, many other wines probably deserved to have been included in the guide, considering the fact that in Italy there are thousands of producers and perhaps some 100,000 different wines. Thus from the beginning we took into consideration wineries and their wines. The selection was made based on the multi-decades of experience many of our collaborators have with their respective native regions. The result is what you will find in the guide and we hope you will like it and find it useful to navigate in the wonderful and complex world of Italian wine.
The 2021 edition of Vini per Tutte le Tasche will be presented today at a tasting that will see the participation of many producers cited in the guide.
When: Sunday, November 28, from 1:30 to 6:30PM.
Where: Rome's EUR district, Spazio Novecento, Piazza G. Marconi 26B.
Who's there: over 50 producers.
Tickets: 10 euros, which includes a copy of the new edition of Vini per Tutte le Tasche by DoctorWine and admission to the open tasting. To buy tickets click here.
Related Articles