Friends who pass away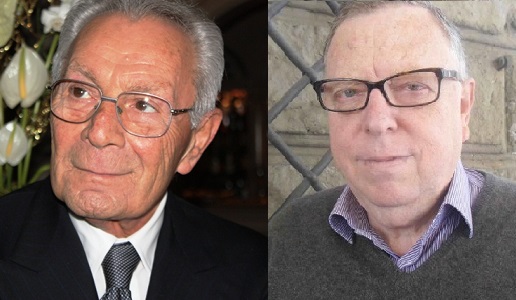 Within a short period of time, Roma lost two leading figures in the capital's restaurant sector: Bruno Borghesi and Dario Cappellanti, who were also two dear friends of mine.
My father, who is now 100 years and four months old, always tells me that the worst thing about getting old is losing friends. I am now beginning to understand that after losing two, true friends in a matter of days: Bruno Borghesi and Dario Cappellanti. They worked in the restaurant business for decades, each in very different sectors but both sharing a high level of professionalism and both important in their own way.
Bruno began his career during the Dolce Vita days of the 1960s, opening Le Clef, a very famous night club at the time. He then created Sans Souci, which was perhaps the most spectacular restaurant Rome has ever had. Going there was like going to the theatre to see a show that was repeated every night. The menu was French, with great wines and service that was simply perfect. Bruno would welcome you in the small bar at the restaurant's entrance where, over a glass of Champagne, he would assist you in deciding on your menu, including the fabulous soufflé aux chocolate, which had to be ordered from the start, after which he would take you to your table. You could leave your car just outside because the staff would then take it to the garage of the Excelsior Hotel, just across the street. The restaurant was right there on Via Sicilia, a stone's throw from Via Veneto. This is how it was for 30 years, until the landlord decided to not renew his contract and he took over the Mirabelle restaurant at the Splendid Royal Hotel, where he worked up until a few years ago and where the spectacular show continued in almost the same way.
Dario was more of a trattoria man, who I met when he took the AIS sommelier course 1986, when he ran the Da Paris restaurant in the Trastevere district. He started off as a waiter at the Loreto restaurant on Via Valenziani, where Chinappi is today, and later at Piperno in Monte de' Cenci. It was during this time that he met "sora" Iole, who would become his wife and who was also a formidable cook. Together they had three children: Rita, Gianni and Paolo. After leaving Piperno they opened a small trattoria, Da Paola on Via Lanciani. Despite being in a neighborhood on the outskirts of Rome, it became very famous for its authentic traditional Roman cuisine. Then, in the 1980s, they took a new, major direction.
Silvano Paris, who at the time was the president of the Rome restaurant association, decided to lease his famous restaurant in Trastevere. Dario and Iole made an offer and thus began an adventure that went ahead until 2016. Paris soon became a reference point for all those who loved Roman Jewish cuisine, dishes like fried artichokes, dried meat and pasta with chickpeas, as well as traditional dishes like broccoli with skate fish. When I lived above the restaurant, in Piazza San Calisto, it became an extension of my home and Dario and Iole were family.
Bruno and Dario were two very close and dear friends and forgive me if I wanted to tell you something about them now before memory fades.