The DoctorWine Seal 2020: 97/100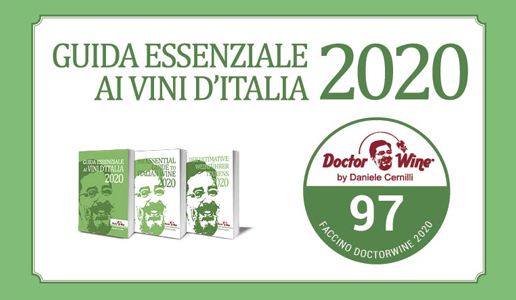 And up we go again… to look at those wines with a nice 97/100 rating, elite wines of the highest quality that represent the pride and joy of Italian winemaking throughout the world.
One more step up (or perhaps we should say giant step given the size of the initial ones in an Egyptian or pre-Colombian pyramid). From this level the air is different, we are closer to the top where we will find the absolute best of Italy's wine production.
Again this year we can happily underscore how these wines come from all over Italy, although two regions, as always, take the lion's share: Tuscany and Piedmont. But there are also wines from Abruzzo, Alto Adige, Campania, Friuli Venezia Giulia. Lombardy, Marche, Puglia, Sardinia, Sicily, Trentino, Umbria and Veneto, evidence of how today great wines are made throughout Italy.
97/100
Alberelli di Giodo 2017, Giodo, Sicilia
Alto Adige Gewürztraminer VT Terminum 2016, Cantina Kellerei Tramin, Alto Adige
Alto Adige Lagrein Vigna Klosteranger Riserva 2015, Muri-Gries, Alto Adige
Alto Adige Pinot Bianco Rarity 2006, Cantina Terlano / Kellerei Terlan, Alto Adige
Alto Adige Sauvignon Rachtl Riserva 2016, Tiefenbrunner, Alto Adige
Amarone della Valpolicella Classico 2011, Bertani, Veneto
Arshura 2016, Valter Mattoni, Marche
Bagadiu 2017, Fradiles, Sardegna
Barbaresco Albesani Santo Stefano 2016, Castello di Neive, Piemonte
Barbaresco Rombone 2015, Fiorenzo Nada, Piemonte
Barbaresco Sorì Tildin 2016, Gaja, Piemonte
Barolo Brunate 2015, Giuseppe Rinaldi, Piemonte
Barolo Bussia Riserva 7 Anni 2010, Pianpolvere Soprano, Piemonte
Barolo Cerretta Vigna Bricco Riserva 2013, Elio Altare, Piemonte
Barolo Francia 2015, Giacomo Conterno, Piemonte
Barolo Ornato 2015, Pio Cesare, Piemonte
Barolo Ravera Vigna Elena Riserva 2013, Elvio Cogno, Piemonte
Barolo Riserva 2012, Borgogno, Piemonte
Barolo Sottocastello di Novello 2015, Ca' Viola, Piemonte
Barolo Vigna Rionda Riserva 2013, Massolino, Piemonte
Bianko 2017, Macondo, Marche
Bolgheri Superiore Grattamacco 2016, Grattamacco, Toscana
Bolgheri Superiore Millepassi 2016, Donna Olimpia 1898, Toscana
Brunello di Montalcino Ripe al Convento Riserva 2013, Castelgiocondo, Toscana
Brunello di Montalcino Riserva 2013, Canalicchio di Sopra, Toscana
Brunello di Montalcino Riserva 2013, Capanna, Toscana
Brunello di Montalcino Ugolaia 2013, Lisini, Toscana
Cannonau di Sardegna Barrosu Franzisca Riserva 2017, Montisci, Sardegna
Cannonau di Sardegna Bobotti+ 2017, Cantina Sannas, Sardegna
Cannonau di Sardegna Riserva 2017, Cantina Mele, Sardegna
Castelli di Jesi Verdicchio Classico Utopia Riserva 2016, Montecappone, Marche
Castelli di Jesi Verdicchio Classico Villa Bucci Riserva 2017, Bucci, Marche
Cepparello 2016, Isole e Olena, Toscana
Chianti Classico Gran Selezione Colledilà 2016, Barone Ricasoli - Castello di Brolio, Toscana
Chianti Classico Gran Selezione Il Puro 2015, Castello di Volpaia, Toscana
Chianti Classico Il Campitello Riserva 2016, Monteraponi, Toscana
Chianti Classico Riserva 2013, Castell'in Villa, Toscana
Collezione De Marchi Syrah 2016, Isole e Olena, Toscana
Collio Friulano Vigna del Rolat 2018, Raccaro, Friuli Venezia Giulia
Collio Malvasia 2018, Raccaro, Friuli Venezia Giulia
Collio Sauvignon Ronco delle Mele 2018, Venica & Venica, Friuli Venezia Giulia
Contrada R Rampante 2017, Passopisciaro, Sicilia
Derthona Sterpi 2017, Vigneti Massa, Piemonte
Dettori Bianco 2018, Dettori, Sardegna
Etna Rosso Barbagalli 2016, Pietradolce, Sicilia
Etna Sciaranuova Vigne Vecchie 2016, Tasca d'Almerita, Sicilia
Fiano di Avellino Stilema 2016, Mastroberardino, Campania
Flaccianello della Pieve 2016, Fontodi, Toscana
Franciacorta Annamaria Clementi 2009, Ca' del Bosco, Lombardia
Franciacorta Collezione Esclusiva Brut Riserva 2008, Cavalleri, Lombardia
Friuli Colli Orientali Refosco dal Peduncolo Rosso Cossut 2015, Miani, Friuli Venezia Giulia
Friuli Isonzo Sauvignon Piere 2017, Vie di Romans, Friuli Venezia Giulia
Gioia del Colle Primitivo Polvanera 17 2016, Polvanera, Puglia
Gioia del Colle Primitivo Riserva 2014, Tenute Chiaromonte, Puglia
Il Caberlot 2016, Il Carnasciale, Toscana
Ipnotico 2017, Terre dei Vaaz, Puglia
Kurni 2017, Oasi degli Angeli, Marche
Le Pergole Torte 2016, Montevertine, Toscana
Malvasia di Bosa Riserva 2014, G. Battista Columbu, Sardegna
Menfi Chardonnay Didacus 2016, Planeta, Sicilia
Mix 36 2016, Castello di Fonterutoli, Toscana
Montefalco Sagrantino 25 anni 2015, Arnaldo Caprai, Umbria
Montepulciano d'Abruzzo Cocciapazza 2016, Torre dei Beati, Abruzzo
Pecorino Supergiulia 2017, Cataldi Madonna, Abruzzo
Per Filo 2017, Principe Corsini - Fattoria Le Corti, Toscana
Roero Mompissano Riserva 2016, Cascina Ca' Rossa, Piemonte
Sforzato di Valtellina Sfursat 5 Stelle 2016, Nino Negri, Lombardia
Taurasi Stilema 2015, Mastroberardino, Campania
Terre di Pisa Veneroso 2016, Tenuta di Ghizzano, Toscana
Trentodoc Extra Brut Giulio Ferrari Riserva del Fondatore Riserva 2008, Cantine Ferrari, Trentino
Valpolicella Superiore Vigneto di Monte Lodoletta 2013, Romano Dal Forno, Veneto
Vin Santo del Chianti Classico 2008, Rocca di Montegrossi, Toscana
Vino Nobile di Montepulciano Madonna delle Querce 2015, Dei, Toscana
W… Dreams 2017, Jermann, Friuli Venezia Giulia