Blue bubbles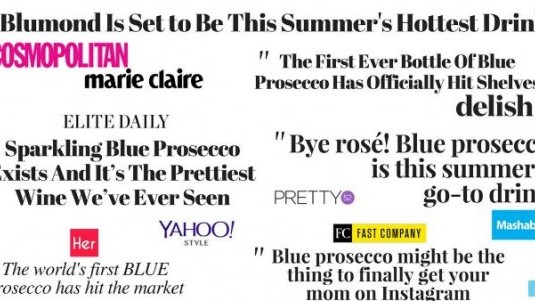 A bright blue, Prosecco-based beverage is taking the US by storm: Blumond. It's too bad it's erroneously being called a sparkling wine. 
There is an old saying that at her wedding a bride must wear "something old, something new, something borrowed and something blue". Bearing this in mind helps to understand the amazing success in the United States of Blumond , a trademarked brand registered by the Saraceni brothers from Tuscany of a beverage they market as a "Blue Sparkling Wine " or "Blue Prosecco " but which in reality is a drink made from Glera grapes that was carbonated in an autoclave with the addition of peach aromas and that has a blue color from the addition of Blue Curacao.
This sweet "Spumante" has an alcoholic content of only 7% and its bright-blue color  was key to its success, resulting in a turnover in the US of almost 800,000 euros in 2016.
The Saracini brothers deserve praise for coming out with a new product and a brilliant advertising campaign  that is convincing consumers in the US and China. But the fact is that a beverage like this one cannot be defined as a "wine" according to Italian law which does not allow for the addition of aromas or flavors while European Union law states that a wine product cannot have a color other than the various nuances of yellow, pink and red.
The producers make no claim on the label that this is a wine because exports of the beverage would immediately be blocked. However, the term wine is repeatedly used on the company's websites and always in English. On the site www.saraceniwines.com, which is the first that comes up in a Google.it web search, Blumond is described as "The World's First Blue Sparking Wine " but no technical information is offered on how it was made. The site thus just seeks to impress through suggestion based on images.
More detailed information can be found on the site www.saraceniusa.com which describes the product as an "Italian Blue Sparkling Wine made from Prosecco grapes with an added flavor of fresh, sweet peach ". There is also a technical description that states: Wine Type: Sparkling Wine and goes on to describe it as an authentic sparkling wine made from grapes in a winery.
Each country has its own regulations and those in Italy regarding wine are among the strictest in the world. The fact that abroad it is not a problem that this beverage is called a wine means Italy can have no say about it. But should the Saracini brothers desire to enter the Italian markets, beginning in June, they will have to be very careful about the words they use and their product cannot be a sparkling wine but a wine-based beverage.
We asked the Consorzio del Prosecco Doc  for a comment and they said that they have already contacted the authorities and are about to sue the company for improper use of the Prosecco brand.